The US Daily Cash Surplus for Monday 10/26/2015 was $6.5B bringing the October deficit to $47B with 4 business days remaining.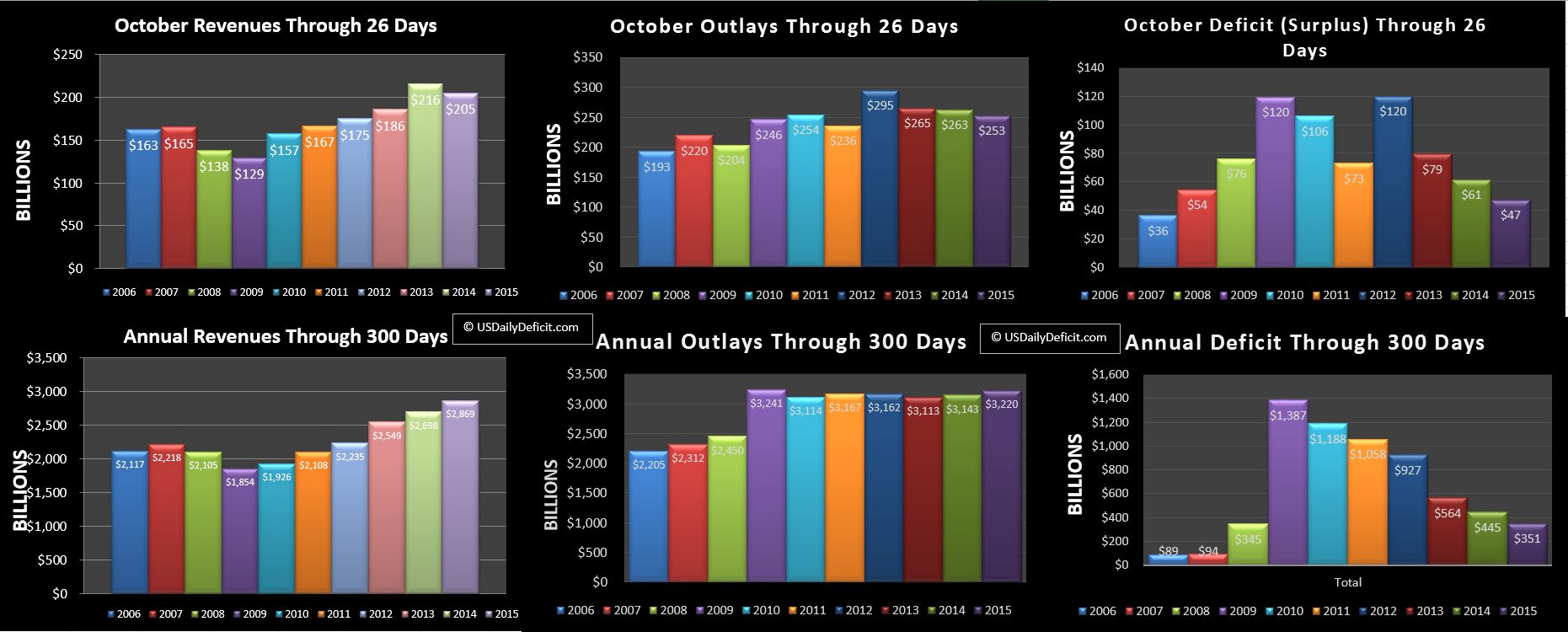 This is my first update of the month so lets start at the top. Revenue is down $11B making it unlikely we are going to make it to our +5% target this month. Two things stick out…first, since I adjust the timing for days of the week, October 2014 has an extra business day…an advantage that will stick for the rest of the month. Second, last year there was $7B of cash inflows related to the Justice department…. bank fines if memory serves. In any case, these will not repeat, leaving a $7B disadvantage for 2015. If you pull those items out, October would probably look ok on revenues, but certainly not great.
Outlays are also down….This is due to the one less business day mentioned above, and also timing of the final Social Security payment of the month which goes out Wednesday 10/28 this year, but 10/22 last year. Once you add that back in, and factor in that Payments due Sunday 11/1 will instead get pulled into October this year and go out 10/30…October 2015 outlays are going to be up quite a bit (offset in November of course going the other way).
I didn't make an official deficit forecast for October, but I did mention $75B in the September write up. I didn't take timing into consideration in that, so I would add about $35B to that and call it at around $110B. That seems fairly reasonable
Debt Limit:
It is in the news now that a deal is in the works to raise the debt limit before Lew says we will hit it next week. I have been predicting early February for ~6 months or so, leading me to believe either I overestimated the depth of the "Extraordinary Measures (EM)" well, or perhaps more likely….they could always call it more or less whenever they wanted to…and a November battle is politically better for them than a February battle in the middle of tax refunds and presidential primaries. In any case…I think this is great news because trying to account for Extrordinary measures is a pain in the a@% for me….getting back to regular ol' shady government accounting without any advanced countermeasures will make my analysis much simpler.
As it stands, the cash balance is $54B, and we are likely to run a ~60B deficit over the last 4 days of October, so if EM really is about tapped out, I suppose next week really could be Default day…stay tuned we'll know in about a week.