The US Daily Cash Deficit for Tuesday 3/18/2014 was $7.0B pulling the month back to a deficit…$4B for the month through 18 days.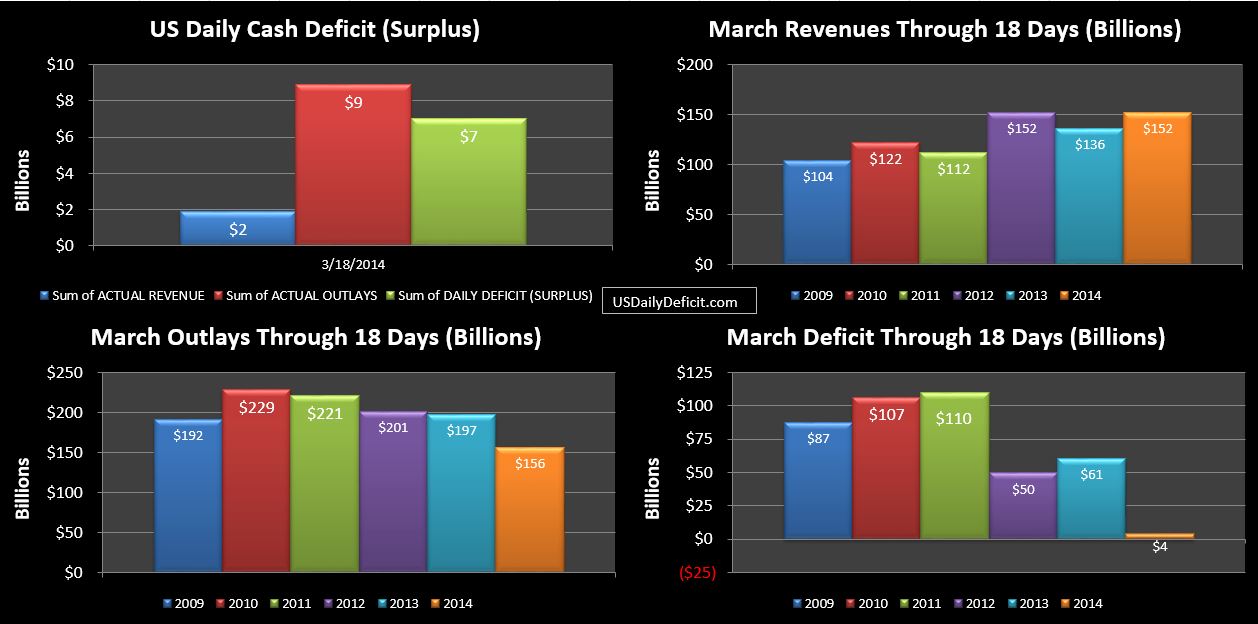 The day was pretty much in lockstep with last year, so no news there. For the month, one of the interesting series I am following is Medicaid outlays. After averaging a little under $22B per month in 2013, we've seen what looks like a jump to just under $24B per month through 2 months of 2014. 2013 growth was at 5% over 2013….2014's current pace is about 11% over 2013. Now we know that Medicaid was expanded by Obamacare, so I would guess that has something to do with it. However, I would have guessed that Medicaid payments for new enrollees for service 1/1/2014 would take a few months to be processed as cash payments….but we clearly saw the increase in January. It will be interesting to see where March ends up. Another $24B month would pretty much confirm that the last 2 months were not just random noise. Anything over $26B would be alarming. We are currently at $14.35B through 12 business days with 9 remaining. Pencil that out, and you get to $25B. However…this series is a bit random in its day to day, so we'll just have to wait and see.
Finally…for a bit of perspective on that ~$2B increase….revenues were up YOY $36B over the last 2 months for an $18B/month rate. As long as revenue continues to grow at that rate….the deficit will continue to shrink….even against the growth in SS/Medicare/Medicaid. However…when that revenue growth stops or goes negative…watch out!!