The US Daily Cash Deficit for Monday 2/10/2014 was $12.8B pushing the February 2014 cash deficit to $37B through 10 days.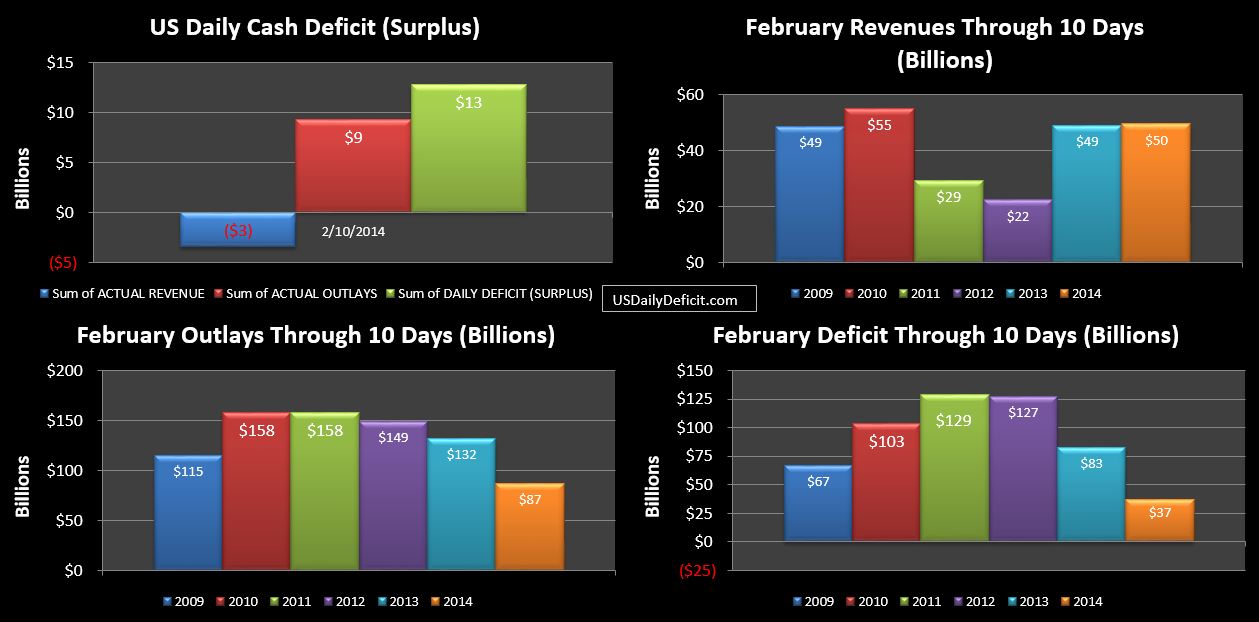 Of note…Treasury seems to have remembered how to pay tax refunds…pushing out nearly $19B, and bringing the YOY shortfall down to only $4B.
Also interesting…we can clearly see "extraordinary measures" at work on the DTS. New public debt issues of $885M, offset by public debt redemptions of $926. So…simple math, one would probably expect public debt outstanding to decrease about $41M right???
Nope…somehow, magically, public debt outstanding plunged $3.73B….from $12.280T to $12.276T. Where did it go?? Essentially…it was taken off of the balance sheet and put in a jar with the rest of the off balance sheet IOU's…so Treasury could pretend it didn't exist….and therefore not go over the debt limit when they booked the also fake IOU's to the SS trust fund (intragovernmental debt rose $3.7B). Of course, when the debt limit is raised… these liabilities come out of the jar, and back on the balance sheet.
Summary: In one fell swoop refunds are more or less back in line with last year and net revenues are looking flat, but with a lot of time left to reach that +10% mark…. Outlays look weak at -$45B, but should make up a lot of this by month end as timing is the key driver here. All eyes on revenue and refunds for the rest of the month.