The US Daily Cash Surplus for 1/16/2014 was $5.4B pulling the January 2014 Deficit down to $20B through 16 days.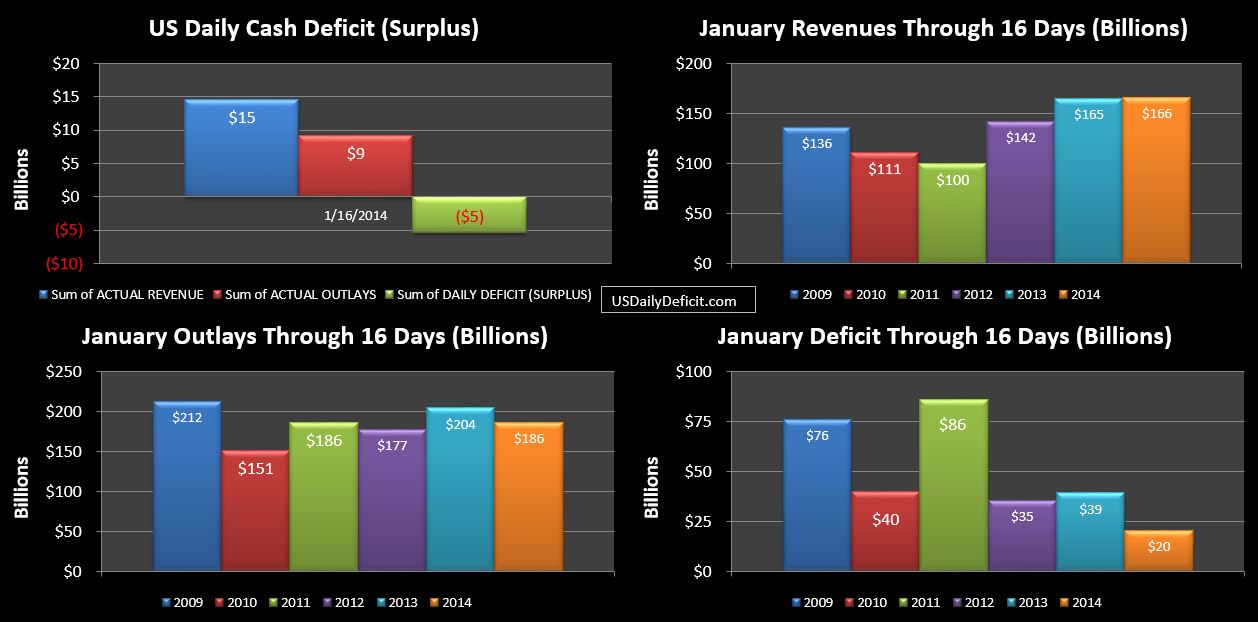 Curiously….we did see a large revenue gain…just not from where I was looking for it, with Taxes withheld…$3.1B last year Thursday 1/17…this year jumped to $10.7B. Now…I won't pretend to know the intricate details of tax withholding and remittance to treasury…All I know is that generally speaking…Tuesday and Thursday and usually have low tax deposits…in the $2-3B range. Now…we have 2 days…Tuesday 1/7 and now Thursday 1/16 that have broken that pattern in a big way. Ok…enough crazy talk…
Taxes not withheld, which is where I expected to see the gain actually fell from $4.3B last year to $2.5B. That's not what we want to see, but it's not really something to worry about….especially if the gain noted above sticks…
Outlays continue to fall…another $3B YOY. It will be interesting if this sticks…and continues for a few more months. Thinking back….it was around a year ago that we were talking about the sequester and the fiscal cliff….but then I guess most of that didn't really kick in until a few months later. My thoughts are that YOY cuts are going to be slow down a lot in 2014. Looking at defense for example…2013 vs 2012 defense vendor payments were down about 11%. Cutting another 10% on top of that is going to be tough….so if we see this trend continue past say April or so…I'd be surprised…pleasantly I suppose.
To wrap it up…a nice revenue surprise more than offsets a small disappointment….and outlays are still curiously weak. Stay tuned for next week…which could make or break the whole month.
New pattern emerges?