The US Daily Cash Surplus for 10/2/2013 was $7.1B pulling the October Deficit through 2 days down to $27B.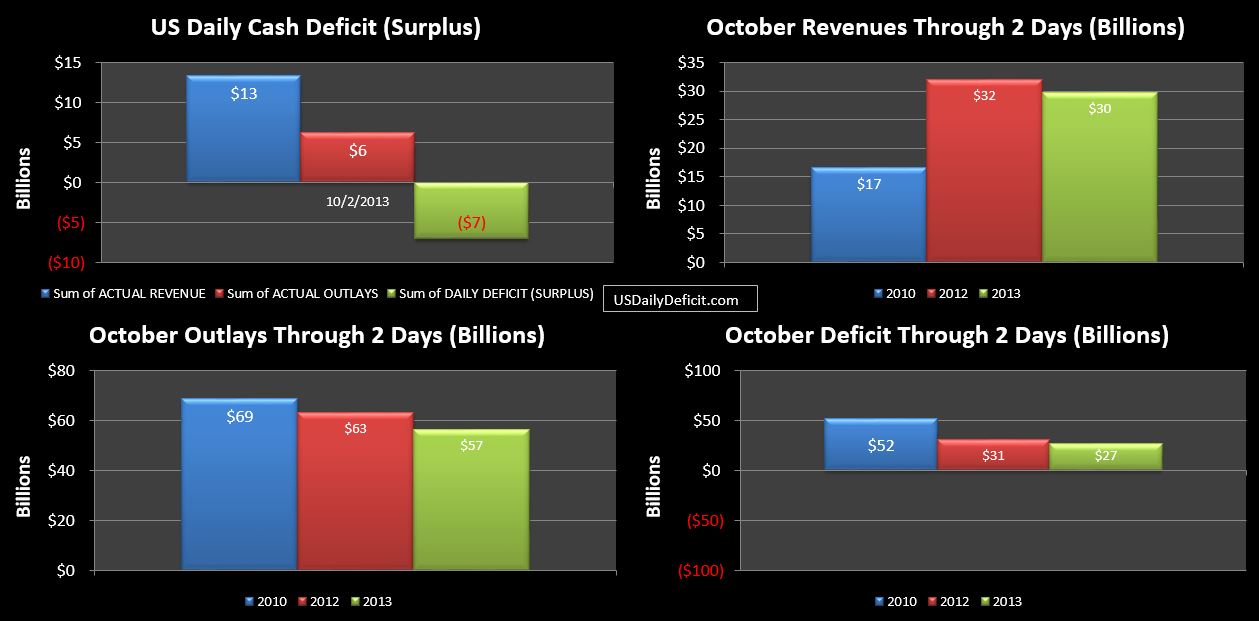 Revenues look like they staged a comeback after being down $10B yesterday, but it's really just timing….10/2/2012 was a Tuesday, which generally has weak revenues while 10/2/2013 was a Wednesday, which generally has strong(er) revenues. I may sync the days up after the weekend….it's not perfect, but it will give us a bit better YOY comparison once we get into the middle of the month. For now, we are comparing 2 days of October 2013 to 2 days of October 2012.
Outlays look to be down $6B….but about $5B of interest due 9/30 was paid 10/1 last year…pulling that out, we are more or less in line.
Cash was up $7B on the surplus to $58B which is good because we are likely to post a ~$30B deficit 10/3 as the first round of Social Security payments go out. Just eyeballing it, it looks like there may be about $40B of extraordinary measures left in the tank. If that's true(??)…It looks to me like we can probably make it past 10/17, but probably not past the heavy outflows of early November…ending with the 11/3 $25B Social Security payment. At that point, all you have to spend is your incoming cash, leaving an average shortfall of $60-70B per month, though the actual shortfalls/surpluses swing drastically from month to month. Coincidentally….Social Security is about $62B….cut that and crisis averted, budget balanced. Who wants to run on that in 2014? Didn't think so!!