The US Daily Cash Surplus for Wednesday 4/30/2014 was $2.8B bringing the US Cash Surplus for April 2014 to $125.5B…topping last April's pretty phenomenal surplus by almost $9B.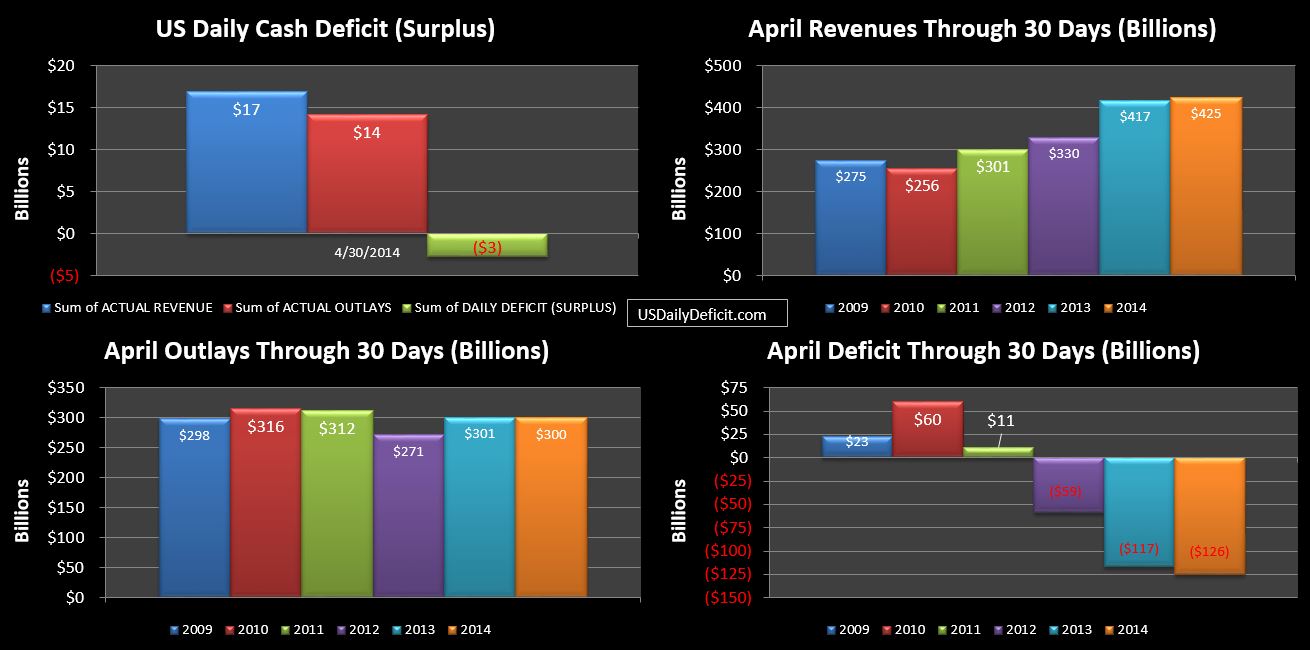 And yet….It is quite clear that my initial forecast of a $180B Surplus for the month was a bust….a $55B miss…my worst guess ever, topping my $18B miss back in November by a factor of 3. There goes my average….:) So plain and simple I missed the revenue big time. I figured the +10% we'd been seeing would continue…ignoring numerous posts of mine from last year stating the obvious…building on last April's 27% YOY gain was going to be a mathematical challenge…and so we ended up at +1.9%. Not helping my cause…refunds actually picked up a bit. But Outlays…I nailed…"down a smidge" I said…and sure enough…down 0.3%…a $1B decrease.
So obviously….we would have preferred a $180B surplus…but I'm not panicked about this…yet. Now I'm looking to May and June revenues. If they also end up at a paltry 2% revenue growth…..then yes…alarm bells are starting to go off. If, however they jump back up to what we saw from Jan-March….in the +10% or so range….I can write April off as an anomaly…April 2013 was just so high…topping it by 2% is a victory in itself.
There were two things I mentioned a few days ago that I want to follow up on. First was taxes withheld…up 8% between January and March…ended up at only 2.5%. This is more or less where I would expect it to be in a slow growth economy…it will be interesting to see if this is a one month anomaly or if it persists. Again…look to May and June.
Second was Medicaid spending…the only visible piece of Obamacare outlays, which was up 14% YOY through 3 months of 2014. For the month, Medicaid came in at $24.4B…the highest monthly total in nearly 3 years, but only 8% over last April's $22.5B spend…pulling down the average a bit, but still on an ugly trend line. This series tends to jump around a bit month over month, but through 4 months, +10% growth appears to be in the cards.
So to wrap it up…any month you have a $125B surplus is a good month. Treasury even took the occasion to pay down external debt by about $115B and still end up with a cash balance of $148B. It might be worth noting, however that Intragovernmental debt…that debt we pretend we owe to ourselves as discussed here, crossed $5T yesterday for what looks like the first time ever. So look in your pocket…your personal share of that is about $16k….remember…it's an asset…and a liability…don't think too hard about it…you might hurt yourself.