The US Daily Cash Surplus for Tuesday 4/22/2014 was $39.1B as the expected taxes not withheld poured in totaling $46.2B for the day, just $1B shy of last year's $47.2B. This brings the April 2014 Deficit to $95B through 22 days with 6 business days remaining.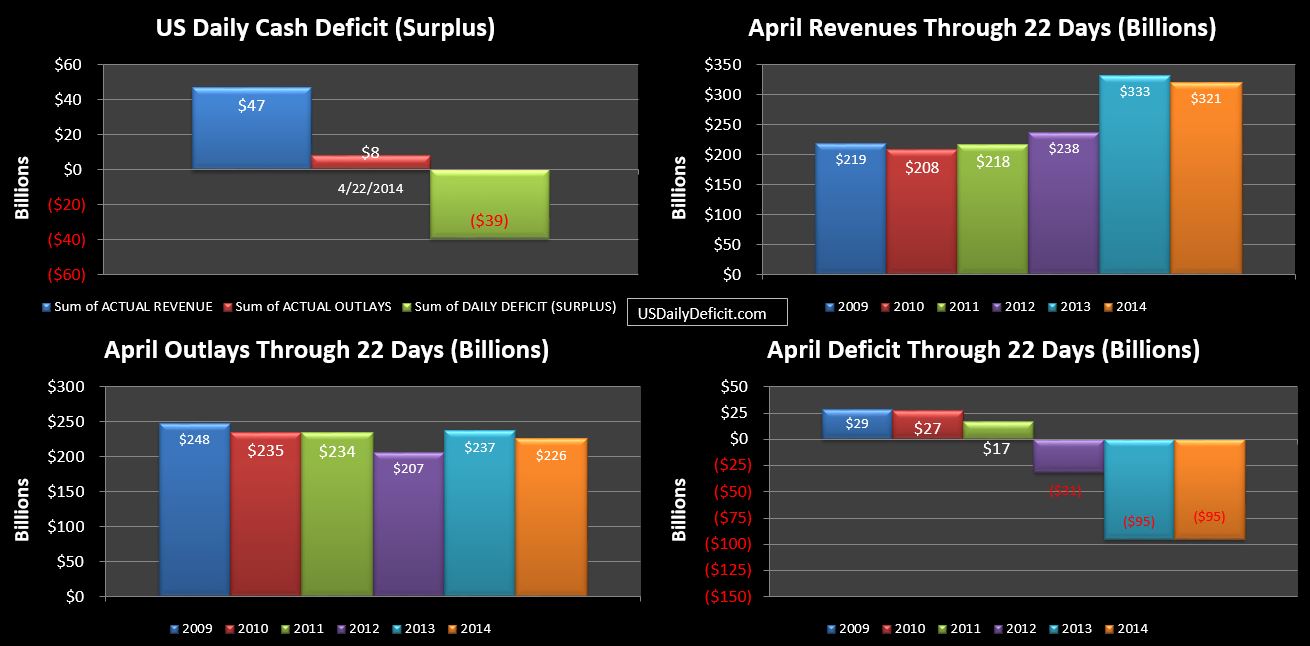 And there you have it….perhaps the most interesting day of the year has come and gone…and is nearly a carbon copy of last year. Total cash revenues at $47.003B vs $47.025B last year. Outlays at $7.914B compared to $7.688B on Tuesday 4/23/2013.
And so….As we entered the day, April 2013 and April 2014 are still pretty much in line except for the extra business day for 2013 giving it an additional $10B of revenue and cost.
And with that…the likelihood of my forecasted $180B surplus for the month is quite diminished….a more realistic estimate is probably something more in line with last April's $117B surplus. There were 3 primary variables in my revenue forecast.
1) Taxes withheld would be up 10%
2)Taxes not withheld would be up 10%
3) Tax refunds would be down marginally
Through 22 days…all of these assumptions are incorrect…all are around 0…plus or minus a few.
It's been an interesting month, and I wouldn't be shocked if we get a few more surprises over the remaining week. Still…it's hard to call a day where you run a $39B surplus bad….and even if it's flat with last April….that was one hell of a month at +27% YOY revenues…maybe matching it should be considered a win in itself?? Now…if May also comes in flat…it might be time to get worried, but for now, let's just enjoy the fact that we have a $95B Surplus…