The US Daily Cash Surplus for Wednesday 3/5/2014 was $1.1B bringing the March 2014 cash deficit to $17B through 5 days.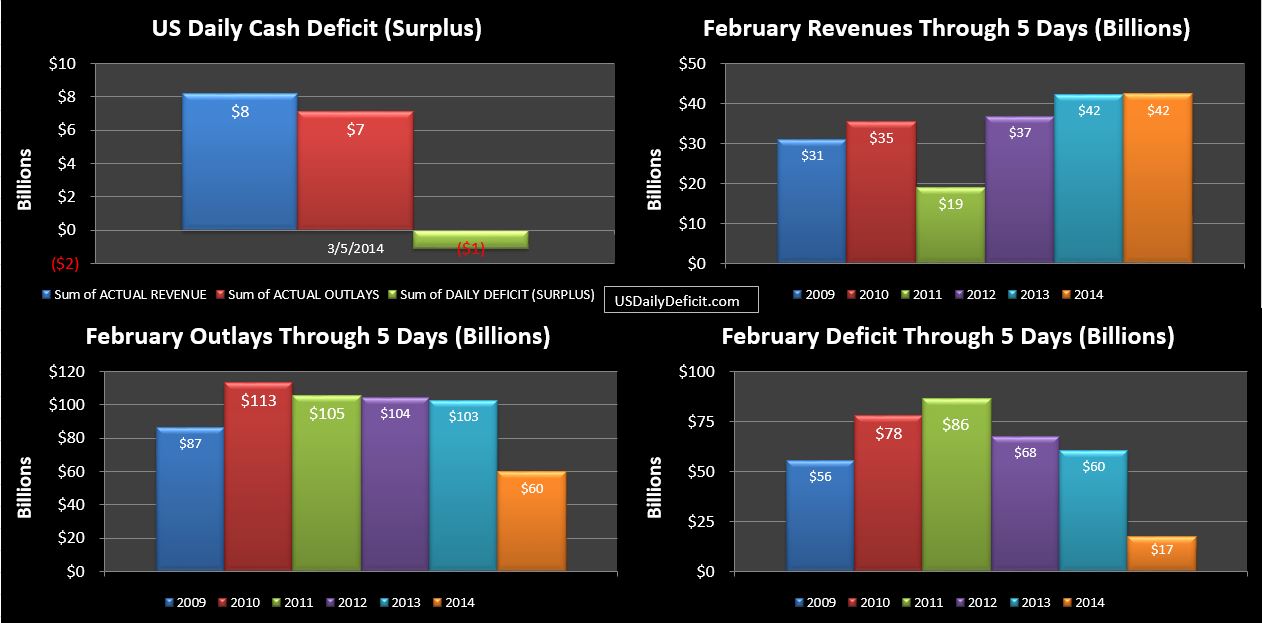 Of note for the day…$2B of taxes not withheld were received….a March daily record going back to 2006…which is as far as my daily records go back. For reference, last March booked $9.5B for the full month, with a max of $1.1B and an average of about $450M. I don't know if it means anything, or if it's an anomaly. However, I do have one contact who thinks we are on the verge of having a huge revenue month in April due in part to the tax hikes that went into effect in 2013….and will be fully due April 15th.
I honestly don't know, but I guess I hope he is correct….it's not like I'll be making any huge payments in April… My lizard brain tells me that last April's 27% YOY revenue spike was a one time event. Seeing another large gain…on top of last year's already huge number would make my charts look messy….and that makes me sad 🙂 I guess I'll believe it when I see it.
But that's why I have been keeping a very close eye on tax deposits not withheld from paychecks. Last year, Jan-March increased about 15% before spiking to +40% in April. This year, through 2 months, we are up 7%….whether or not there is any correlation…we'll have a better idea by the end of April.
Other than that…kind of a slow news day. Revenue up a bit, tax refunds down a bit. We have to wait until the 15th for a slug of $20-25B or corporate taxes….any divergence from this range would be interesting. Until then…we'll be keeping an eye on revenues and refunds….I should have a chance to tackle the Social Security Stats for February some time next week….but it is Spring Break….you never know.