The US Daily Cash Surplus for Wednesday 2/5/2014 was $5.1B bringing the February 2014 Deficit through 5 days down to $8B.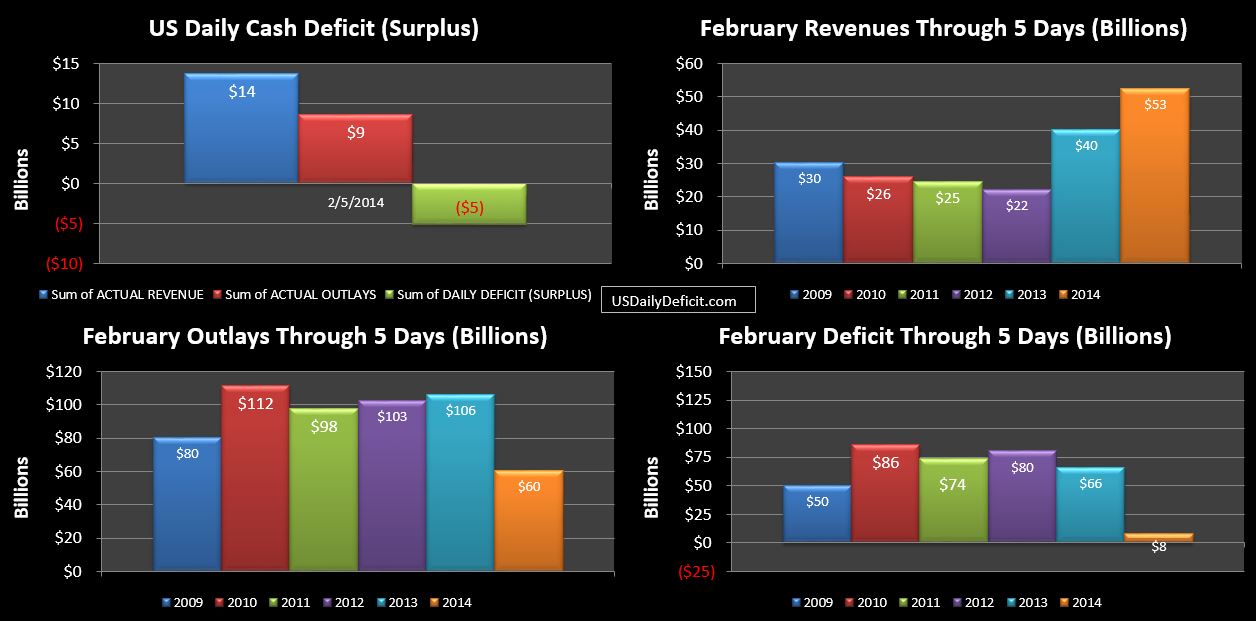 Curiously….still no material increase in tax refunds showing up on the DTS yet…. This seems a bit odd given the debt limit going back into effect tomorrow. You see, until tomorrow, there is no debt limit. They could issue $200B of debt to pay for $200B of tax refunds by tomorrow afternoon and it would be all good. However…after tomorrow….the ability to borrow is pretty much locked down and limited to "extraordinary" measures.
So…just to look back at last year….Filing began Wednesday 1/30/2013….and two days later on Friday 2/1, ~$4B per day of refunds started flowing out per day. This year, filing starts Friday 1/31…and by 5 days later…nada.
Obviously I have no proof….but If I were Obama….this is what I'd be doing as well. Why risk drawing this silly little game out for months? By delaying payments until after the debt ceiling goes into effect, perhaps they are ensuring this round is over and done by the end of February. Also…it's likely that any day they will start talking about how tax refunds won't be paid unless the debt ceiling is raised….which will become technically true before too long. That's going to make it extremely difficult for Republicans to gain any leverage or put up much of a fight….not that they would have anyway.
So as it stands, we have the illusion of a very good month….already with a deficit $58B lower than last year. This one could get crazy quick, so for now all we can do is sit back and watch.