The US Daily Cash Surplus for Wednesday 1/22/2014 was $12.5B as revenues surged far past my expectations…driven by taxes not withheld at $29.2B….compared to $18.5B a year ago…not bad for a one day haul!! From here, we would expect this source to taper off…ending the month well under $1B per day. On the current track, this category is on track for about +10% compared to my initial estimate of +5%. On the other hand, taxes withheld are currently sitting at only +1%, but seem on track to end up closer to +5%.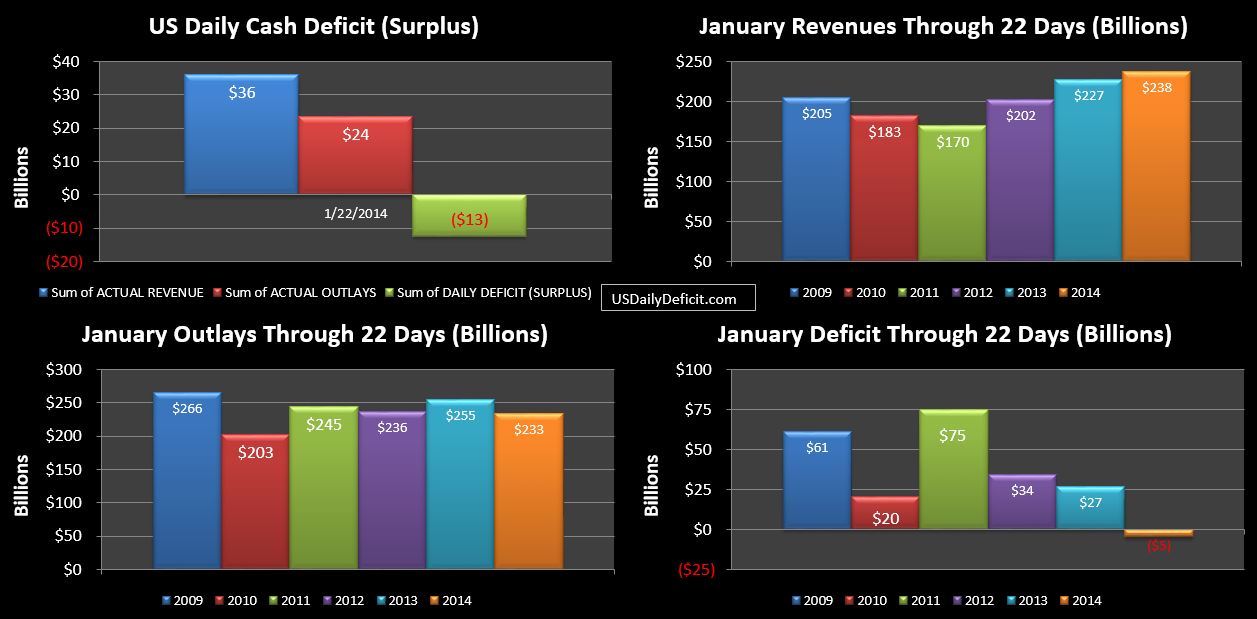 The 12.5B daily surplus pushes the monthly surplus to $8B…breaking to positive for the first time this month. If revenues stay strong it's possible we stay here…but I suspect we will still end up with a small deficit thanks to strong outlays Friday 1/31 as a lot of February payments will get pulled forward…January's loss…February's gain.
Outlays were actually flat for a change. The final large SS payment is now in the books bringing the monthly total to $62.840B. Looking at the month over month, that would indicate a 5.2% growth rate…which could grow a little higher depending on what trickles in for the rest of the month. It's not an outrageous number, but it is a bit higher than my forecast, which has a 4% growth rate baked in. The rate does generally jump around, so I wouldn't read too much into one incomplete month, but it is something to keep an eye on. We know the wave of Boomer retirements has really just started…if we see this rate start to spike for a sustained period, it will tell us one of two things…the second wave of retirements (the first being caused by the "great" recession) may be upon us…or secondly…maybe the economy sucks and seniors are being forced to take SS because they can't find jobs.