The US Daily Cash Deficit for Wednesday 10/15/2014 was $6.5B bringing the October deficit through 15 days to $69B halfway through the month.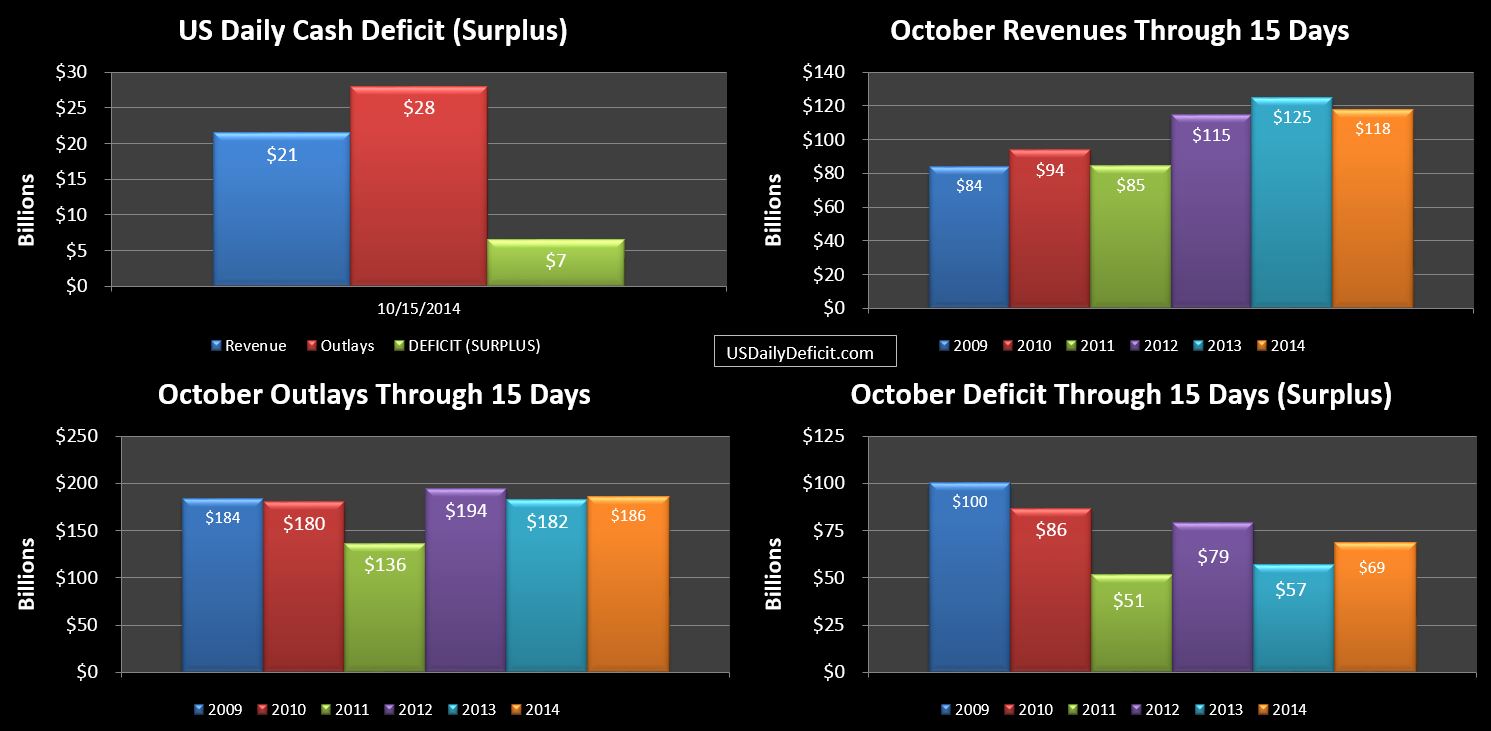 We are now more or less back in sync for revenues as $9B of corporate taxes came through for the day putting us on pace to beat 2013 in that category by 10%. It's not on par with last month's 29% YOY gain, and it's only about $1B, but hey…we'll take it.
Sitting here at the midpoint, October revenues don't impress at $-7B. Sure…2013 has an extra Tuesday….so pulling that out they are more or less even. But we are shooting for +5% at a minimum to keep the deficit shrinking at a noticeable pace, so let's hope we see an uptick in the second half of the month….it certainly wouldn't be the first time.
Outlays, on the other hand, despite being down a day, are up $4B over 2013 and trending up. Ignoring the month end timing event we should see….we are on pace for about 3% YOY increase in outlays….quick math says to keep the deficit constant…we need about 4% revenue growth to stay even.
Other than that, there is something that looks odd in the Supplemental Nutrition Assistance Program (SNAP) cash outlays. They sit at $3.8B through 15 days. What's odd is that looking back over the last few years, the average cash spend in this DTS bucket is only about $320M. Now to be honest, the $320M always seemed very low to me so I just assumed that the cash outlays for this program were somehow being dumped into another category…probably what they label "Food and Nutrition Service (misc)" (FNS) which averages about $8.4B per month. What I suspect is simply a change in accounting…things that had been coming out FNS's piggy bank are now coming out of SNAP's piggy bank. It should all net out…but nuke the category trends in the process….thanks!!