The US cash deficit for May 2016 came in at $86B compared to $107B last May, but the YTD deficit is still up 31% at $249B vs $190B in 2015.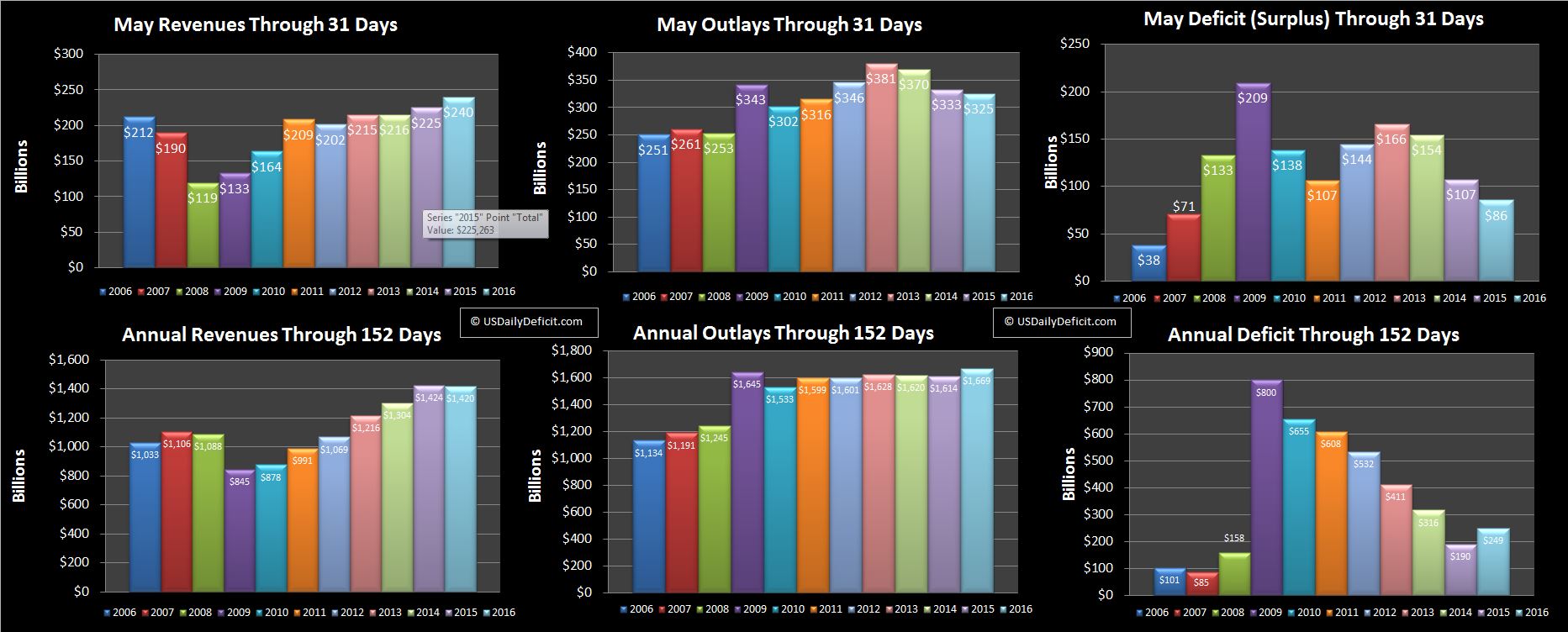 At first glance, it was an OK month…revenue up, outlays down….all good news.
Revenue:
Revenues were up 7%, but I would point out that there was an extra business day, and the timing with the holiday was favorable…pulling that out, we were more or less flat, which is pretty much the revenue story for the year. I would guess this timing hurts the June YOY putting 2016 at a ~$10-$15B disadvantage to last June, but stay tuned… For the year, we have made up some ground, and while still $4B short of last year, let's just call it flat through 5 months. If we were shooting for 3% growth for the year, we're going to average nearly 6% here on out…something that is looking quite unlikely in my judgment.
Outlays:
Outlays were down $8B, but about about $40B of payments due May 1 went out April 29 due to the weekend, offset by ~$6B of interest payment timing vs. last year. Pull out timing, and outlays were up ~$26B..some of that is the extra business day, the rest is just overall increases. For the year, we see that outlays at $1.669T are $55B over last year, good for a 3.4% increase.
Deficit:
At $249B through 5 months, 2016 is looking like it will be the year that breaks 6 years of consecutive improvement in the cash deficit. Coming into 2016, I had a very basic assumption…revenue would be up 3%, outlays would be up about 3%, and the deficit would be more or less unchanged. Outlays are running a little over that, but with revenue essentially at 0%, instead of hitting a plateau, the deficit is curving back up. The good news is that withheld taxes are still solid at +3%, but total revenues are being pulled down by unwithheld tax deposits, corporate taxes, and other one time events like 2015's $35B spectrum auction deposits.
Summary:
Revenue was a beat, so good news there, and as noted above taxes withheld from paychecks are running at a solid +3% YOY. Assuming there are no more one time issues, revenues should start climbing over 2015…maybe we are on track for 1-2% or so? Outlays continue to come in hot and could be trending closer to 4% than 3% by the end of the year. Put it all together, and 2016 isn't a disaster, but it does look like the trend has turned against us. Looking forward to June, it is a quarter end, so we should see solid revenues and a healthy surplus say in the $40-$70B ballpark assuming no surprises.