The US Daily Cash Deficit for Friday 5/30/2014 was $35.0B bringing the May 2014 deficit to $145B for the full month, a $14B improvement over May 2013's $159B deficit, but $12B over my $133B forecast.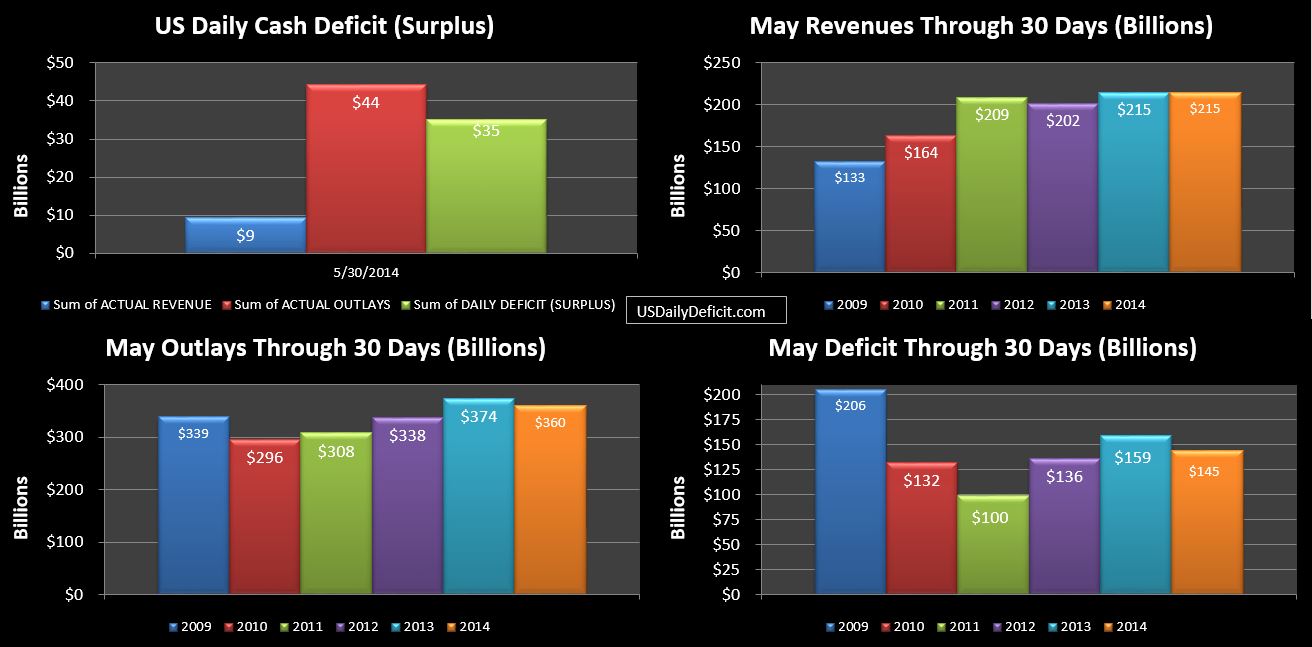 Revenues end the month flat….a mere $336M $663M over last May and good for a 0.3% gain. It is worth noting that we were down a business day, which probably knocked off $5-10B off the total haul….but we'll get that business day back in June….and the extra day hurts outlays so it's not going exactly to save us. This makes 2 months in a row of sub 2% revenue growth….if we book a few more it's going to be impossible to ignore.
Outlays ended up down $14B with defense vendors down $5B and a $6B timing issue on interest payments (shifted to June) being the largest variances….and the one less business day probably helped a bit too. Also of interest, Medicaid outlays continue to trend up hitting $25.345B, up about $1B over last month and the highest since June 2011…which looks like it was  a timing related spike….unlike the current month which looks like the real deal. Through 5 months, Medicaid costs are up about 12%…from averaging $21.6B in 2013 to $24.1B in 2014. Clearly this is being driven by the Medicaid expansion, and while not huge, it's a definite cost driver in a period where revenues look like they may be flattening out.
I'll try to put together a  more detailed summary later this week, but at first glance… May 2014 is definitely not a good month with a $145B deficit and more signs that revenue has flat lined just as outlays are likely to start picking  back up. Looking ahead, June is all but assured to book a surplus, but is unlikely to match last year's Fannie Mae driven $116B surplus, even with an extra business day :).