The US Daily Cash Surplus for Monday 6/30/2014 was $16.2B, following Friday's $1.5B surplus, and bringing the June 2014 deficit for the full month to $78B for the month.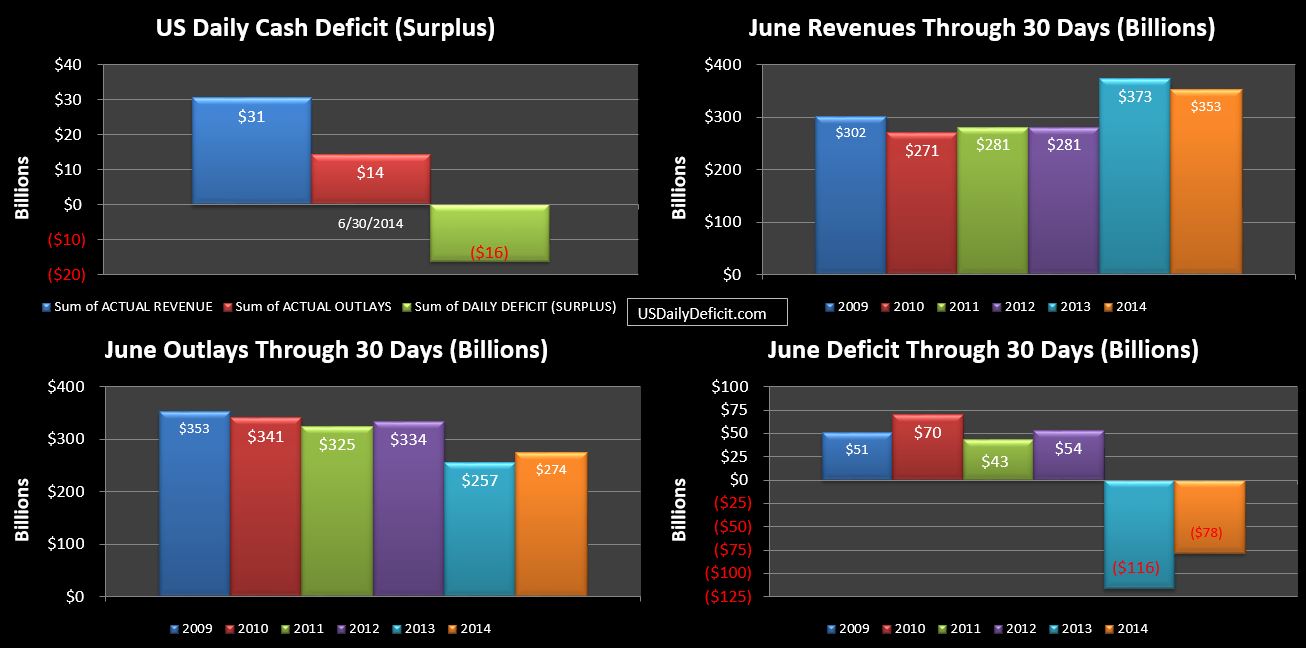 As you can see… June 2014 surplus falls $38B short of last year with the primary culprit being last June had a special Fannie Mae dividend that pushed total GSE revenues to $66B….compared to only $10B this month. Now, I never expected anything close to last year, but last quarter GSE revenues came in at $18B…so $10B is quite short of expectations. I don't know if this was a one off, or if the Fannie/Freddie Gravy train is drying up….we'll know more 9/30 when the next payment is scheduled.
But that aside…the truth is that revenues blew away my expectations… admittedly lowered by 2 months of 1% growth. Taxes withheld were up 13%, taxes not withheld were up 13%, and corporate taxes were up 11%. Some of this was no doubt due to an extra business day and favorable timing, but not all of it. It will be interesting to see how July holds up….as it has a bit of unfavorable timing, though business days stay the same. Anything over 5% would be ok in my book.
Outlays surge at +18B…or +7%. However, $12B of that is timing of interest payments….other than that there are ups and downs across the board, but one really sticks out. Medicaid…up 26% from $21.1B to $26.6B….I would guess driven by Obamacare. For the year…Medicaid is up 14% and +$18B. Lucky for us…all those states decided not to expand Medicaid (yet) or this could be accelerating even faster.
At the end of the day….it was a good month. Revenues handily beat expectations and at least temporarily put to rest the fear that revenues were about to collapse after 2 months of 1% growth. Outlays were up, and while a good chunk of it was timing, it does appear that we are on the cusp of returning to a growth in outlays …over all say 1-3%…but we're not there yet.
Hopefully more in depth analysis at  later date, but for now…on to July.