The US Daily Cash Surplus for Friday 5/29/2015 was $2.4B bringing the May 2015 Cash Deficit to $104B for the month.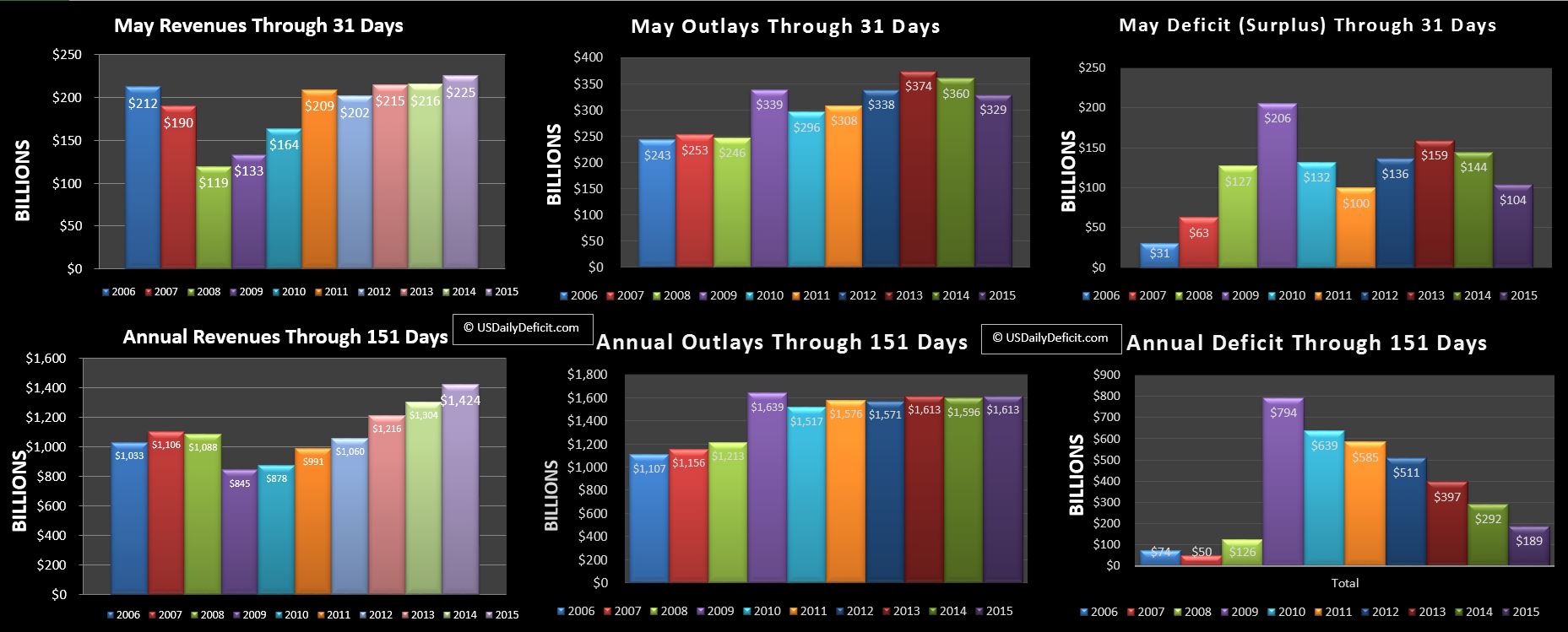 Revenues:
Revenues were up nearly $10B good for a 4.5% YOY improvement. May 2015 had one less business day, so adding that in and we would have been between 6-7%…not as impressive as April's +13.5%, but good enough.
Outlays:
Outlays were down $31B, but all of that is related to timing as in 2014 $30-40B of payments due 6/1 went out in May since 6/1 fell on a weekend. May's gain will be June's pain, expect it to start with a big hole
Deficit: On increased revenues and decreased outlays, the deficit was down $40B vs May 2014. Pulling out timing events, I'd guess we were more or less flat
YTD: We are now 5 months in, and revenue is up 9%. Outlays show flat, but adjusted for timing I'd put them at +3%. That leaves us with the deficit itself with a $103B YOY improvement.
June Outlook: My initial May deficit forecast was $100B, not far off from the $104B actual. June is a quarter close month, which means it should have fairly strong tax revenues. Last June posted a $78B surplus, but due to the timing discussed above, I am putting my initial June 2015 forecast at a $50B surplus. In this number is 8% YOY baseline revenue increase based on what we saw in May, plus an extra business day in 2015 over 2014. Offsetting that, I expect Fannie/Freddie dividends to continue their plunge, maybe coming in at $2-3B vs $10B a year ago. Outlays will be up big….including a 3% baseline plus normalized timing picking up in June the outlays that went out in late May in 2014.
D-Day:  We ended the month of May with $199B of cash, down from $275B to end April. I'd guess they also burned through another $30B of "Extrordinary Measures" (EM), bringing the total to $130B since they started in March out of an estimated $350B at their disposal. Last month I estimated the cash available for deficit spending was at $525B…as of the end of May I would lower that to $199B cash+$220B EM, so $419B. This puts default day in mid February-2016…unless of course the debt limit is raised, which we all know it will be.