The US Daily Cash Deficit for 10/31/2013 was $7.9B bringing the October 2013 cash deficit to $87B for the month. There is no doubt that this is a material improvement over last year's $123B deficit, but as discussed in the October preview where I forecasted $91B, it was not exactly  unexpected.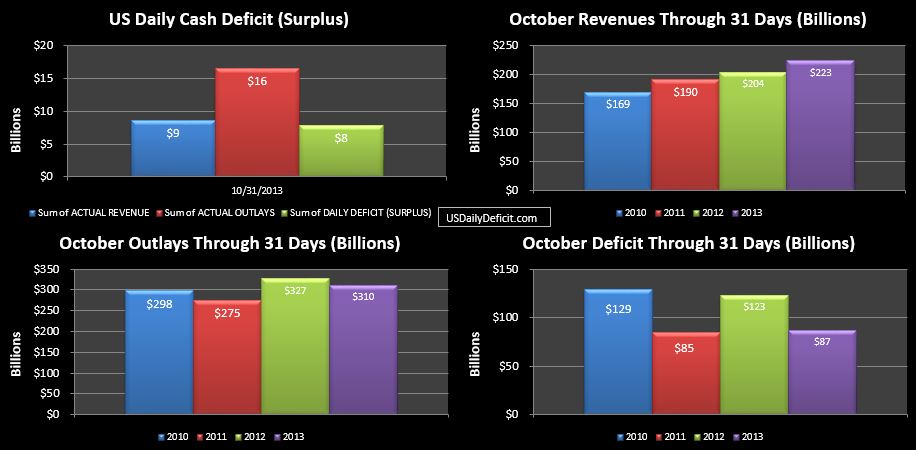 Revenues ended up at $223B just shy of my $225B forecast despite about $4B of help from what I assume to be delayed tax refunds. It was still a good number though, representing a 9.5% YOY increase which is pretty close to what we've come to expect in 2013.
Outlays ended up at $310B, a $17B decrease over 2012, though about $5B of that was due to timing. The rest…I still have to believe much of it is simply delays in payment and expenditures caused by the 16 day government shutdown. We saw some catch up in the last week, but absent timing issues, we normally expect to see pretty flat outlays…with increases in entitlements being more or less offset by sequestration cuts elsewhere in the budget. I could be wrong….If November is down big as well, that hypothesis may need to be discarded.
As a whole…October was a good month in what has without a doubt been a good year. Revenues up, outlays down….that's a pretty simple formula for success and honestly I expect more of the same for the remaining two months of 2013. But 2014 will bring us into new territory. Creating a one year blip is not exactly rocket science. Raise taxes…hold spending flat…which is exactly what has happened. Through 10 months 2013 revenues are up a thoroughly impressive 14% and outlays are down 1%.
But come 2014…there are no new tax increases on the horizon…, and Obamacare is poised to wreck havoc on both sides of the ledger…depending on how they decide to account for it. For example…the Obamacare subsidies are technically tax rebates…which I generally treat as "negative revenue". However…they will be paid directly to insurance companies….so I really have no idea how they will be reported on the DTS…if at all. Penalties, which would show up as new revenues are minimal, and from what I can tell wouldn't be paid until April 2015 anyway…. then there is the expansion of Medicaid…which I would expect to show up in January 2014…adding billions per month of outlays to that program. All in…it's a lot of moving pieces which makes it extremely difficult to forecast what will happen…..guess we'll know in a few months.
What I suspect is that after topping out in 2009 at $1.6T…4 straight years of material improvement end in 2013 at about a ~$700B annual deficit(which is still absolutely terrible by the way). From there…it will stabilize for a year or two before shooting to the moon by the end of the decade.