The US Daily Cash Deficit for 11/29/2013 was $29.5B bringing the total cash deficit for November 2013 to $142B…a $46B improvement over last year and $18B lower than my beginning of the month forecast of $160B (and $8B lower than the $150B I forecasted just yesterday 🙂 ). 2 things contributed to my more recent miss. First…revenues for 11/29 came in much stronger than last year on 11/30…$7.5B higher. Second, ~$5B of interest payments due 11/30 actually went out 12/2….a timing shift I did not catch. This was partially offset by smaller increases in outlays elsewhere.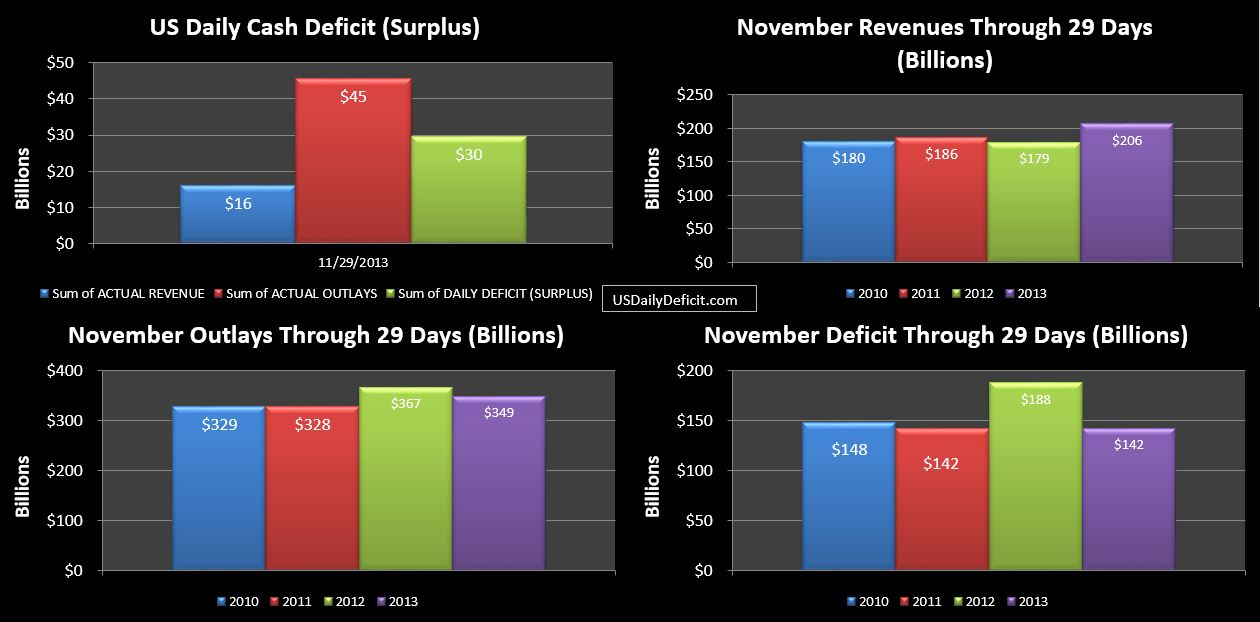 Revenues:
Revenues were up $27B over the prior year good for an impressive 15% bump, though about $7B of that was thanks to some help from TARP paybacks…we'll take them sure…but with only $13B left…this cash honey pot is just about empty. Going back to our November forecast…I had forecasted $202B…so this was actually pretty much spot on.
Outlays:
Outlays at $349B were down $18B YOY, a 5% reduction from 2012's $367B and $13B under my $362B forecast. $5B of that was the interest payment timing I missed. For the remaining variance, maybe it was just one less business day…or maybe they really are cutting costs? this is the second month in a row we are at -5% for outlays….some of it is timing, but if we see it again in December it will be hard to dismiss.
Summary:
November…even with a $142B deficit was a pretty good month with strong improvement in revenues and the second consecutive month of apparent decreases in outlays. Taking a step back…2013, through 11 months is sitting at a $714B deficit….a $403B improvement over 2012 through 11 months. Revenues are up 14% good for +$349B and Outlays are down $54B…good for a 1.5% decrease. So without a doubt…2013 is going to hit the books as showing impressive improvement over 2012. But at the end of the day…despite all of the revenue gains….we are still looking at a $700B deficit…which is a huge number.
The real question becomes…what's in store for 2014/2015? Can we continue to knock $400B off the annual deficit…reaching surplus by 2016? I seriously doubt it. 2013 is likely an anomaly…caused by tax hikes and massive fed intervention that is essentially inflating the value of the stock market…which added to some shady accounting at Fannie Mae….led to a very impressive one year revenue gains at +14%. Clearly…anything is possible, but come 2014…I'd be surprised if we top 5% on the revenue side, while outlays will probably start creeping up. The effect will be a temporary new floor/equilibrium between $600-700B annual deficit for another year or so…before heading back up…touching $1T again by 2018. Of course…a recession at any point could accelerate that very quickly.