The US Daily Cash Deficit for Tuesday 6/30/2015 was $1.9B bringing the June 2015 Surplus for the full month to $47B, 3B short of my initial $50B forecast.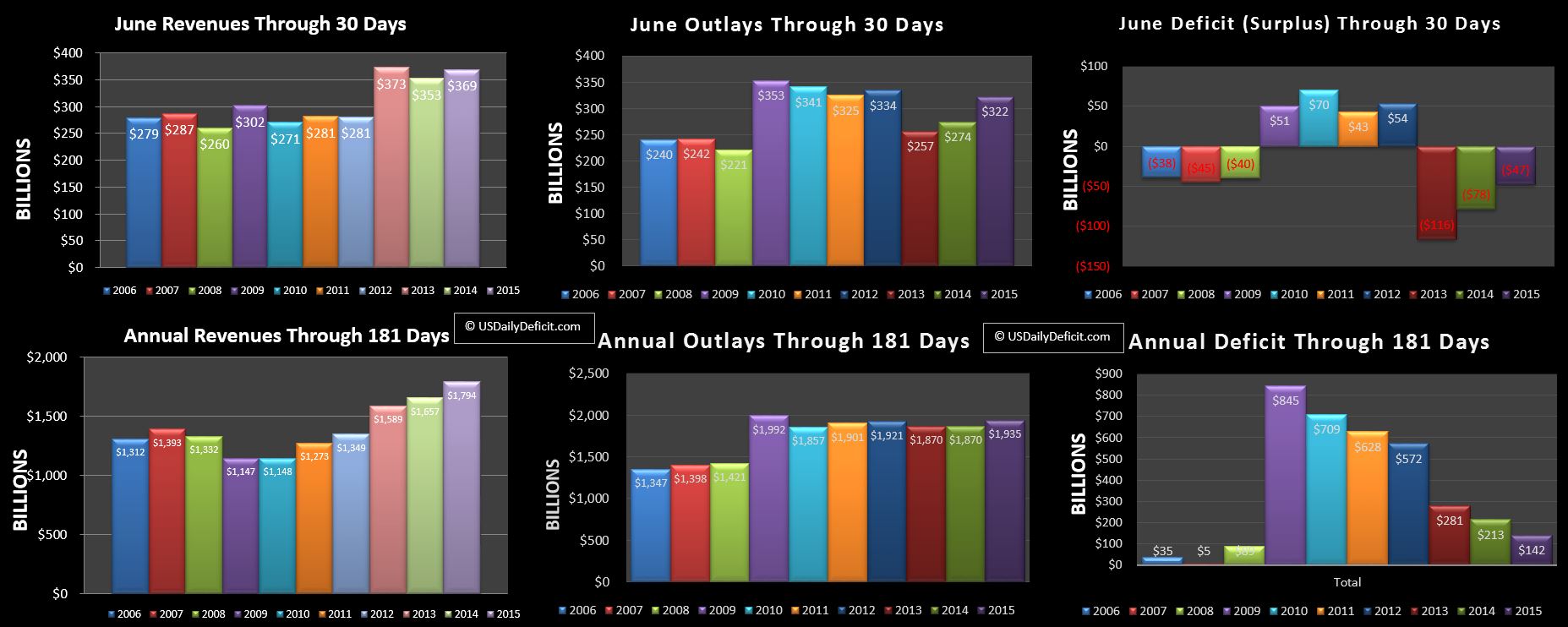 Revenues:
Revenue ended up at +4.7% good for a $16B YOY increase. It's not as high as we have seen, but it includes an $~8B reduction in GSE dividends, so I would still say this was a pretty solid month. Withheld Taxes were up 5.5%, taxes not withheld were up 7.4%, and corporate taxes were up 6.4%. For the year, revenues are at +8.3%.
Outlays:
Outlays ended up big at +48B, but about $35B of that was timing that pulled June 2014 costs forward into May. Another $7-$8B was likely the extra business day, and the balance was bonafide increases. no surprises there…Medicare is growing at 9%, Medicaid is growing at 18%, and SS is growing at a little under 5%. For the year, total outlays are running at about 3.5% in what appears to be a breakout from 5 years of flat spending.
Surplus:
At $47B was under June 2014's $78B which was aided by the timing of outlays. Take that out, and a 4.7% increase in revenues edges out a 3.5% increase in outlays, for a marginal adjusted YOY improvement.
Default-Day:  We ended the month of June with $254B of cash, up from $199B to end May. Backing into the numbers, it actually looks as if "Extrordinary Measures" (EM) were down $15B during the month, bringing the total since EM was deployed in March back down to $115B out of an estimated $350B at their disposal, leaving a 235B cushion. Add to that the current Cash balance of $254B, and the total cash cushion at this point looks to be $489B, which should get us all the way to the middle of next February…so no real change there.
And that closes out a pretty darn good first half of 2015….revenue up 8.3%, outlays up 3.5%. It will be very interesting to see where the second half of the year ends up. It seems like most of the headlines point to economic headwinds…if they pan out we should see it in the revenue numbers, though they will likely lag a bit. As always…stay tuned