The US Cash Deficit for 8/1/2013 was $35.7B as typically strong first of the month outlays overwhelmed the $18B of revenues.
Let's start off the month by talking about timing of August 2013 vs 2012. 2012 started on a Wednesday and ended on a Friday. 2013 starts a day later on a Thursday and also ends on a Friday… and thus has one less business day. Since deficit timing better relates to days of the week, and 2012 has an extra day anyway…I'm going to give 2012 that extra day from the start rather than waiting till the end….So…today, I am comparing Thursday August 1 2013 to August 1&2 of 2012. From here on out, my days of the week are synchronized, and within a week or so, the extra day should more or less become noise. Two more timing things to note. First…Social security checks for rounds 2-4 will be six days delayed from last year due to the timing of the 2nd through 4th Wednesdays of the month. And finally…in August 2012, due to the Labor day holiday…about $60B due 9/1 through 9/3 was paid  on 8/31. This month…only ~35B of that will get pulled forward…the $25B SS payment due on 9/3 will likely go out on 9/3 since the holiday is 9/2.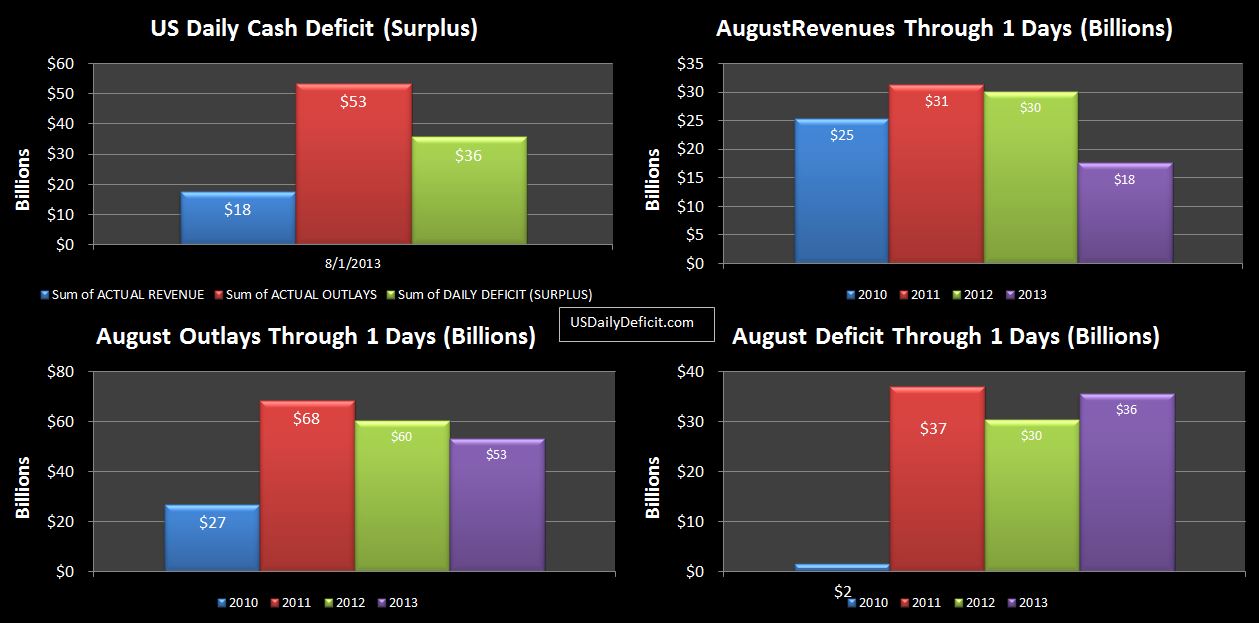 So…with all of that behind us…last August we posted a $211B deficit. After adjusting for timing, increased revenues and a decrease in outlays, my initial deficit estimate for August 2013 is $155B.
Cash on hand to fund the estimated $119B deficit (remaining for the month)…remember we can't borrow any more… is only $79B. Treasury shouldn't have any trouble funding this shortfall…on 7/31, they managed to create $58B of cash out of thin air (or we would be at $21B), it would be foolish to think they couldn't do it again. That is what makes forecasting the debt limit nearly impossible. I can take the current cash balance and forecast what day it runs out with pretty good accuracy. But I can't forecast when Lew will wiggle his nose and poof…create $50-$60B…. and I can't forecast when his magic will run out…making the whole exercise more or less a fools errand. They say October-November…sure why not…