The US Daily Cash Surplus for Monday 6/24/2013 was $12.6B….again on higher than expected (by me) "tax deposits not withheld". I'm just going to get out and own this…I jumped the gun earlier this week when it appeared like we were going to see a 20% decrease in taxes not withheld….which would be a very bearish indicator for the rest of the year and beyond. By this time in 2012…taxes not withheld had slowed to a trickle at less than $1B per day. Today…we actually see an increase…from $5B Friday to $8B. Lesson learned…patterns don't always hold. So anyway…this is good news, and the $8B of receipts pushes the YOY to a positive 10%…with 4 days to go, we could see even bigger gains, but I'm done guessing for now:)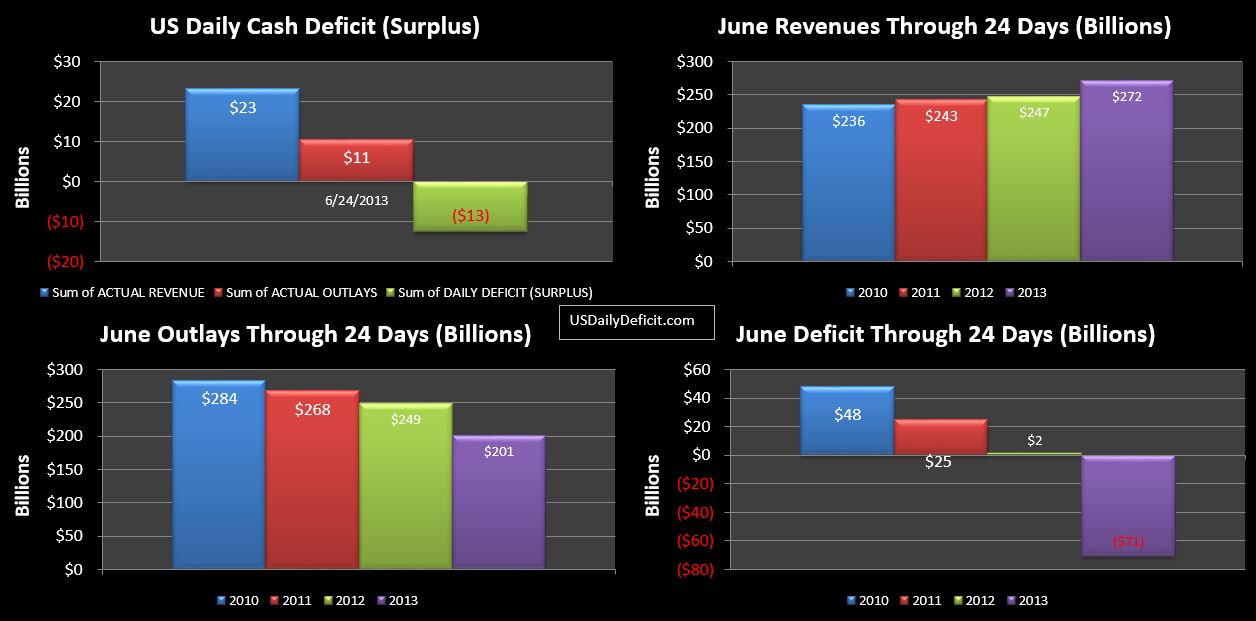 So with four days left we have net cash Revenues up a bona fide 10%…not shabby.
Outlays are down $48B, and while a good chunk of this, about $35B is timing, the rest of it looks legit so far… kinda makes me wonder if treasury is "slow paying" vendors or something. Interestingly….the end of the month should see this apparent decrease in outlays get even better. We've been talking about it all month….how about $35B of June 2013 cost got sucked into May because of how the weekend fell. June 2012, on the other had had the opposite issue…$30-35B of July 2012 payments went out in June….creating a temporary $65-$70B delta between the two years. We haven't seen it yet because it happened on June 29….so it hasn't crept into our charts yet. We'll catch the other end of this next month…when July 2013 should end up quite a bit higher in outlays.
Fortunately, there is an easy way to filter all of this out….all you have to do is ignore the months and look at a YTD. I don't typically post these, but I'll throw them out there today. Through June 24, 2013 has increased revenues 13% vs 2012, while outlays are down 1%. Due to this… the deficit over the same period has dropped from $520B in 2012 to $326B in 2013, a $194B improvement. Looking forward, if the trend follows, we could see a bit more improvement on outlays, but not much…maybe 1-2%, but it's not a sure thing. Revenues appear to be petering out….the 13% is buoyed by an extremely strong April, as the months go by, April's weight will drop, and the average will drop. How far…I have no idea at this time. A few days ago, the data was looking like we might be headed down to 5-7% growth. Now…that is looking pessimistic….back to 10-11%?? I guess we'll just have to wait for the data to find out.