The US Cash Surplus for 5/16/2013 was $0.3B leaving the May deficit essentially unchanged at $99B.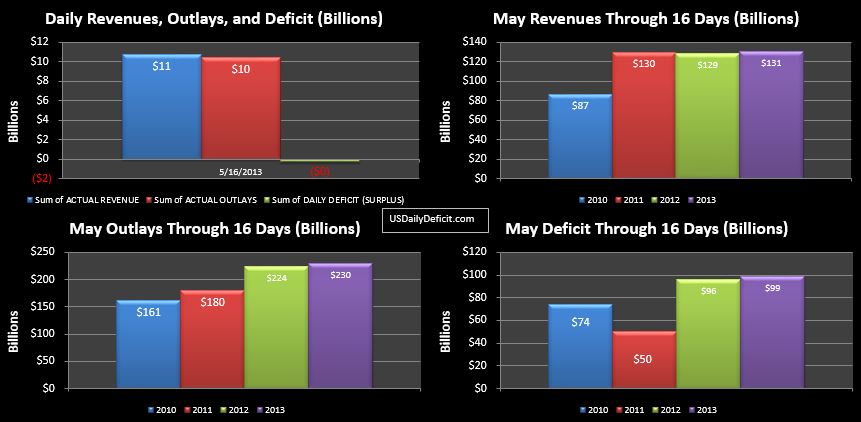 Curiously…Treasury chose to pay down the public debt by $34B today…further pushing down cash from $69B yesterday to $36B today…with one day left before the debt limit is frozen in place. All this is very interesting…it was just a few weeks ago in the middle of surging April revenues and thus cash…that Treasury was issuing debt pushing the cash balance up over $200B. Now…with the debt limit expiration a day away…they appear to have done a 180…trying to hit the limit with just a few days cash in hand??
So for review… the problems don't start when you hit the debt limit…they start when you run out of cash. So if your goal was to make it as long as possible after the debt limit expires without defaulting or delaying payments, you would want a huge cash stockpile…pretty simple stuff. On the other hand if you wanted to just get it over with…you would go in with almost zero cash, and threaten to stop mailing out social security payments and military pay next week. The more I think about it….this sounds like a better strategy for Obama. What could they possibly gain by drawing this out for four months?
But then…why all the stories about making it to October? Why have the CBO come out with the new deficit forecast…setting expectations so high… Maybe it is my expectations that are too high?
Maybe I'm getting ahead of myself….we'll get the Friday finals Monday at 3…maybe they will issue a lot of debt. But if they don't, and we end up with cash in the $30B range, we have about a 4 week "red zone" between 5/18 and the middle of June when we should see some heavy cash inflows. Using last year as a go by, the deficit over that period could be around $100B, but we would probably expect it to be a bit lower. That leaves say a $50B gap that would need to be filled by extraordinary measures, or perhaps a "special" cash infusion from Fannie Mae?? Guess we'll have to wait and see