The US Daily Cash Deficit for 5/14/2013 was $3.4B bringing the May 2013 deficit through 14 days to $65B, actually $3B over 5/2013 through 14 days.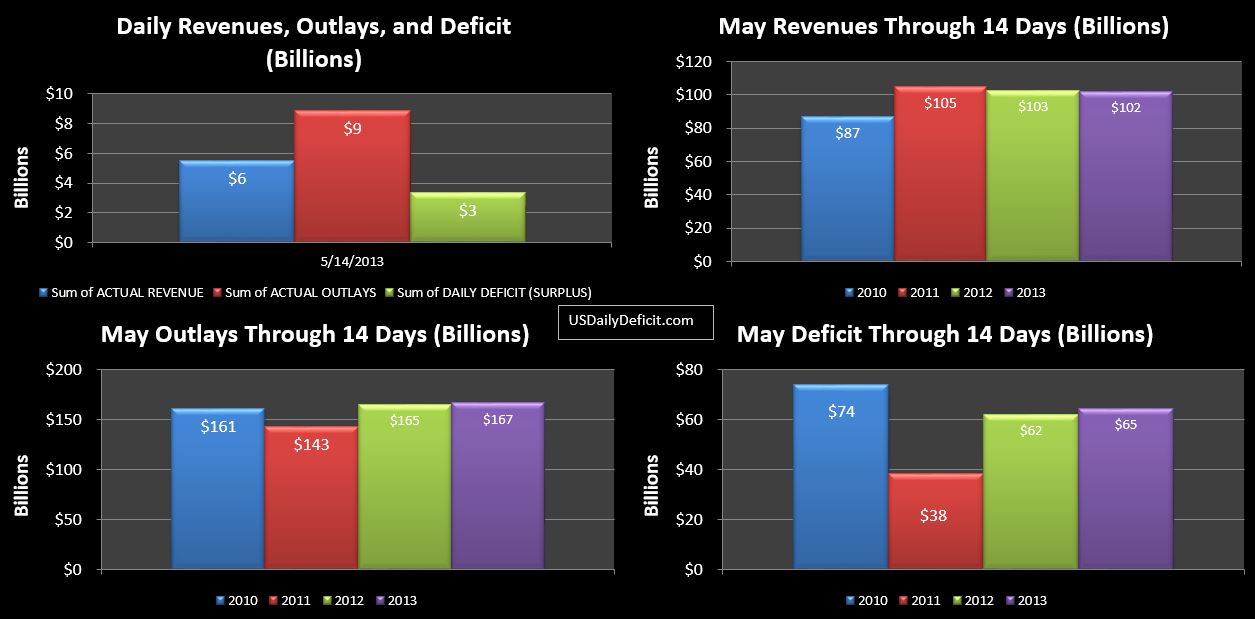 Though not perfect, 2012 and 2013 are more or less aligned again…each having 10 business days M-F x 2. This is important because revenues are highly correlated with the day of the week….with Mondays being the highest in general. So…we have a bit of a surprise in revenue…actually showing a decline of $0.6B. looking in the details, we see tax deposits withheld are up $8B, or about 11%.. Refunds are also down $2B, for a total increase of about $10B. However, this is being offset by declines in unemployment deposits from the states, federal reserve earnings, other, and TARP. Outlays are up a bit, but there is a lot of movement….Social Security payments are up $2.5B, with two more payments to go this month.
Tomorrow brings a triple whammy. A $30B interest payment, the third round of Social Security at ~$12B, and some payroll for government employees paid on the 1st and 15th…the military in particular adding another $3B. All in, a $35B deficit looks quite possible, pushing us up to around $100B for the month.