The US Daily Cash Deficit for 5/9/2013 was $5.6B bringing the May 2013 deficit through 9 days to $59B.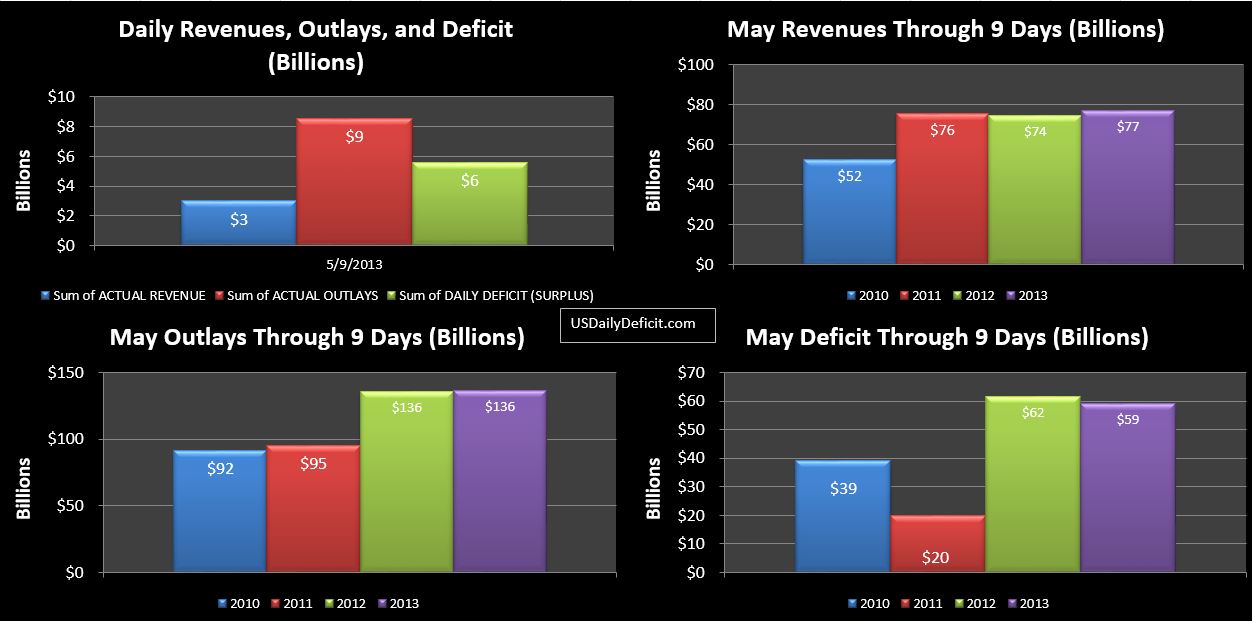 May 2012 and May 2013 are essentially the same YOY… a $6B increase in taxes withheld is being offset by decreases in taxes not withheld, unemployment deposits from the states, and federal reserve "earnings".
A few weeks ago, I mentioned here that it looked like Treasury was stockpiling cash in preparation for the upcoming debt limit showdown…they had issued debt despite the huge April surplus, accumulating nearly $214B in cash as of 4/30….a two year high. Since then…cash has dwindled back down to $97B due to the cash deficit over that time, and a net paydown of external debt of $56B..including $31B yesterday. So…whatever the reason…it no longer appears like they are going to try and hit 5/19…the day the current infinite limit expires with a huge cash balance in the $200-$300B range…though if they are going to, they still have a week to make it happen.
Finally…just for fun since I completely missed last month…I'm going to guess the May deficit comes in at $140B…just topping last year's May deficit of $136B. Revenue will be up 10% or so, but with 6/1 on a weekend, we'll see $20B or so of extra cost hit 5/31 pushing the deficit up for May, but being offset in June, which very well could post a surplus.