The US Cash Deficit for August 2016 came in at $151B bringing the 2016 cash deficit through 8 months to $476B.

Revenue:
Revenue was up 8% for an $18B YOY increase, though the two extra business days vs 2015 played a big part in that beat. Still, we'll take it, and it brings the year to date to just $15B under last year with 4 more months to close the gap.  Looking into the details, the story for the year is emerging…taxes withheld from paychecks are up a healthy 4%, but that gain is pretty much being offset with corporate taxes down 12% and taxes not withheld down 6%. Bottom line is that through 8 months, we are still down…and that's bad news even though some of it is due to one time receipts in 2015. The only good news is that our largest source of revenue…taxes withheld from paychecks appears to be stable and growing at a solid clip. It's not enough, but without that the numbers would be terrible.
Outlays:
For the month, outlays were up huge on timing as a lot of August 2015 outlays went out at the end of July due to how the weekend fell. What really matters is the year to date which is up 3%. That may not sound like a lot, but when the budget is a little over $4T a year, it adds up pretty quickly.
Deficit:
The monthly cash deficit was 151B bringing the year through 8 months to $476B. I think our bottom right chart tells the most intriguing story: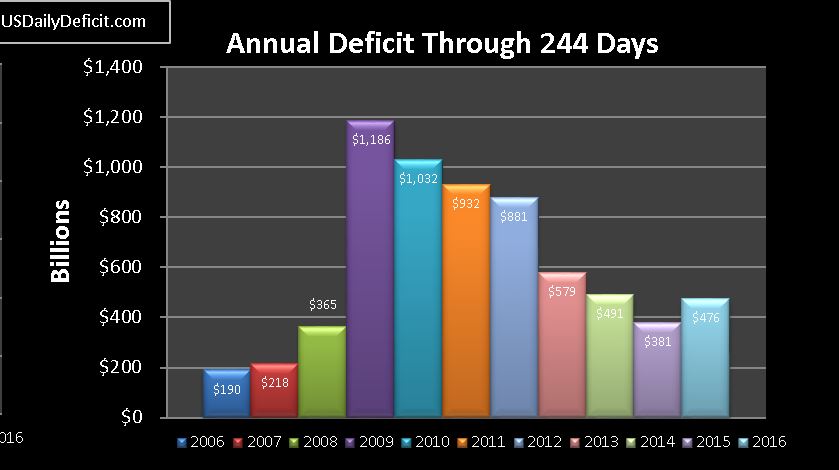 6 years straight of deficit improvement have come to an end barring an unlikely miracle over the next 4 months. Worst of all, it's not a plateau…it's up 25% YOY and headed for the ballpark of $600B for the full year
Summary:
Revenue was a little better than expected, but still negative on the year, and outlays are increasing at 3% YOY. September is a quarter end, so we should see healthy revenues and a moderate surplus in the $20B range for the month. Due to the way the weekend falls, October spending will get pulled into September, so the surplus will be far under last September's $62B surplus, but October should make it up.