Just wanted to add some commentary to the short June post last week. Here is the snapshot again:

Revenues:
Down $16B for the month…Withheld taxes were flat, but corporate taxes were down $12B, for a 16% reduction. Taxes not withheld were down $4B and 6%. For the year,  revenues are down $21B, good for a 1.2% decline.
Outlays:
Outlays were up for the month +2.5% and for the year +3.2%. Social Security, Medicare, and Medicaid continue to dominate the increases
Deficit/Surplus:
For the month, we ran a surplus, which is great but generally expected in June as quarter end revenues flow in, and have given us June surpluses for 4 years straight. However, the true story can be told in our standard bottom right chart…the YTD deficit, which I have blown up below: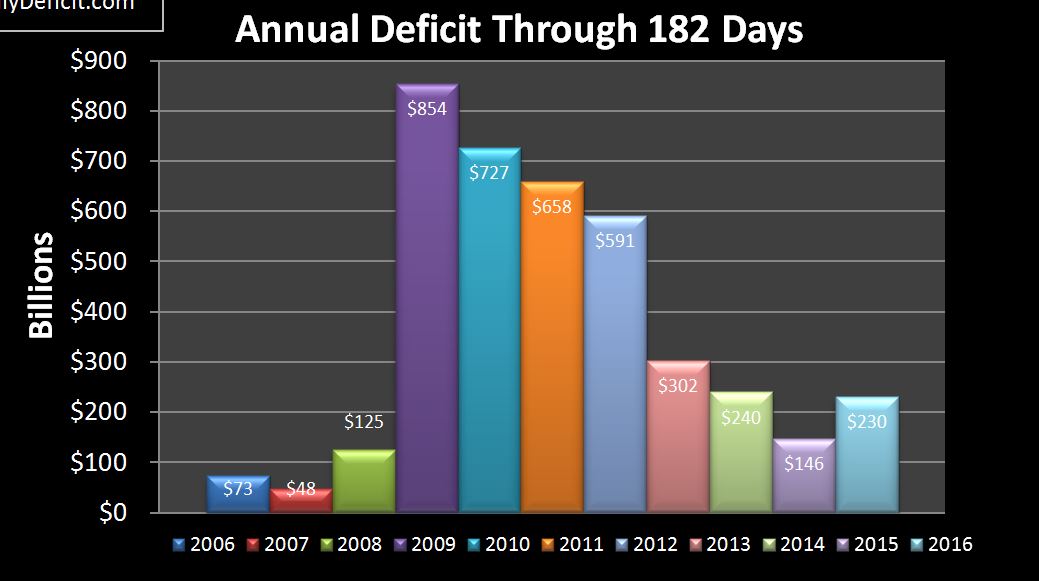 At the midpoint of 2016, it appears that 6 straight years of deficit improvement is likely to be reversed. But where to from here? I hesitate to guess, but there is a good sign, and that is that withheld taxes are up 3.8%, which would indicate rising employment and maybe even higher wages. Offsetting this bright spot is corporate taxes and taxes that were not withheld from paychecks. Those line items being down are certainly negative indicators, but still are dwarfed in magnitude by taxes withheld from paychecks ($1.2T vs $0.5T through 6 months)
Summary:
It was a bad month and bad first half of the year. Where we go from here will be determined by revenue. Looking at the timing, and putting some one offs behind us, with reported employment numbers looking good, and the stock market at or around record high's, getting back to 3%+ YOY growth doesn't sound impossible….fingers crossed.
Looking forward July will return us to deficit territory…last July posted a $133B deficit, though ~$40B of that was timing that was pulled forward cost from August. That should not repeat this year, so I am going to guess we will post an $80B deficit, which assumes a return to 3% revenue growth….stay tuned.