The US Daily Cash Deficit for Tuesday 2/4/2014 was $4.3B following 2/3's unreported(by me) $8.6B deficit, bringing the February 2014 cash deficit through 4 days to $13B.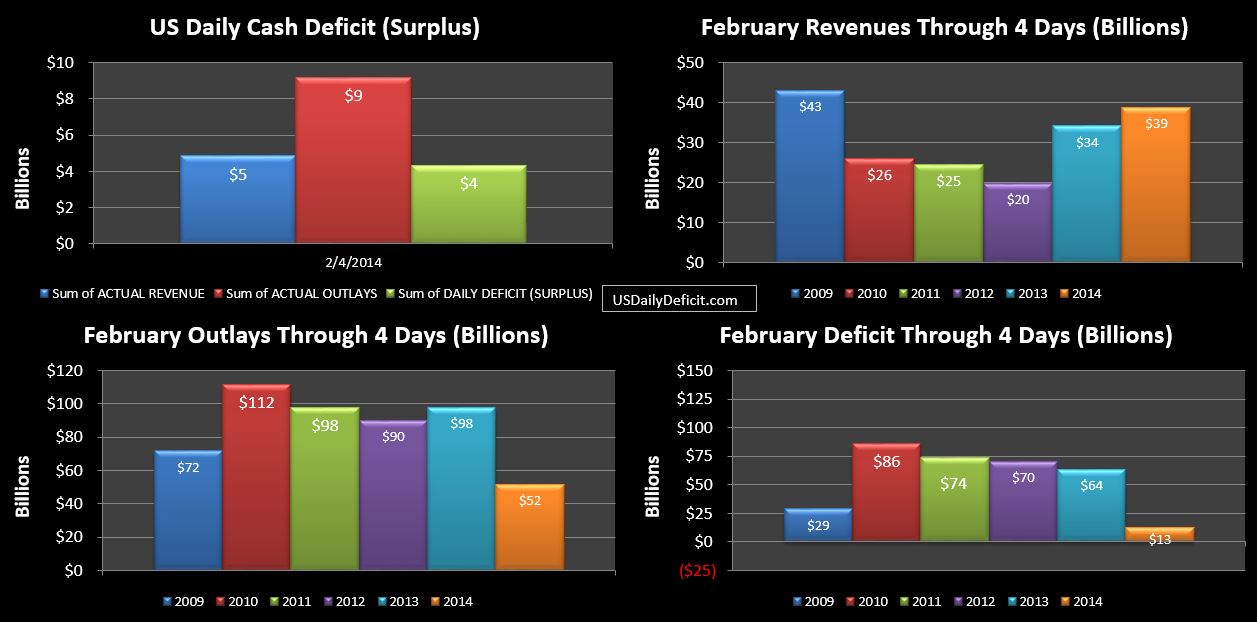 Compared to last year at a $64B deficit …we actually look pretty good. However, most of that is related to ~$35B or so of outlays that went out 1/31 in 2014, but went out 2/1 in 2013, creating a $35B swing between months. The other big variance I can see is tax refunds. I account for tax refunds as a reduction in revenue when issued….so on a day where we have $10B of revenue, but $5B of refunds, I would show net revenues at $5B for the day. Curiously, per google, the first day you could file 2012 tax returns last year was 1/30. This year, you could start filing 2013 returns 1/31. However, last year, refunds started pouring out just 2 days later…$4B on 2/1/2013. By Tuesday 2/5/2013, the total was up to $10.5B for the month.
This year, though delayed by only an additional day, we have seen a total of only $41 million….practically nothing. This is giving 2/2014 a $10B YOY boost that will continue to grow until we start seeing tax refunds flow out of federal coffers. For now, we'll chalk it up to timing and assume it will even itself out by the end of the month.
Speaking of timing, I have taken the liberty of syncing up the YOY based on the day of week as I typically do early in the month. So we are comparing February 2013 through Tuesday 2/5/2013 vs February 2014 through Tuesday 2/4/2014. This will more or less sync up the large revenues and outlays, though as noted above, we are starting out with some large timing issues.
February typically posts the largest deficit of the year due to tax refunds being issued throughout the month. Last year, a total of $114B of refunds were issued to individuals, pulling net revenues down to only $95B….less than 1/4 of the April 2013 revenues of $418B. The February 2013 deficit ended up at $229B. For 2014, my model currently has it pegged at $224B, but if tax refunds continue to fall short…coming in under $200B is a definite possibility.