The US Daily Cash Surplus for Tuesday 1/14 2014 was $1.2B followed by a negligible $18M deficit on Wednesday 1/15. This brings the January 2014 deficit through 15 days to $26B…a $9B improvement over the similar period in 2013.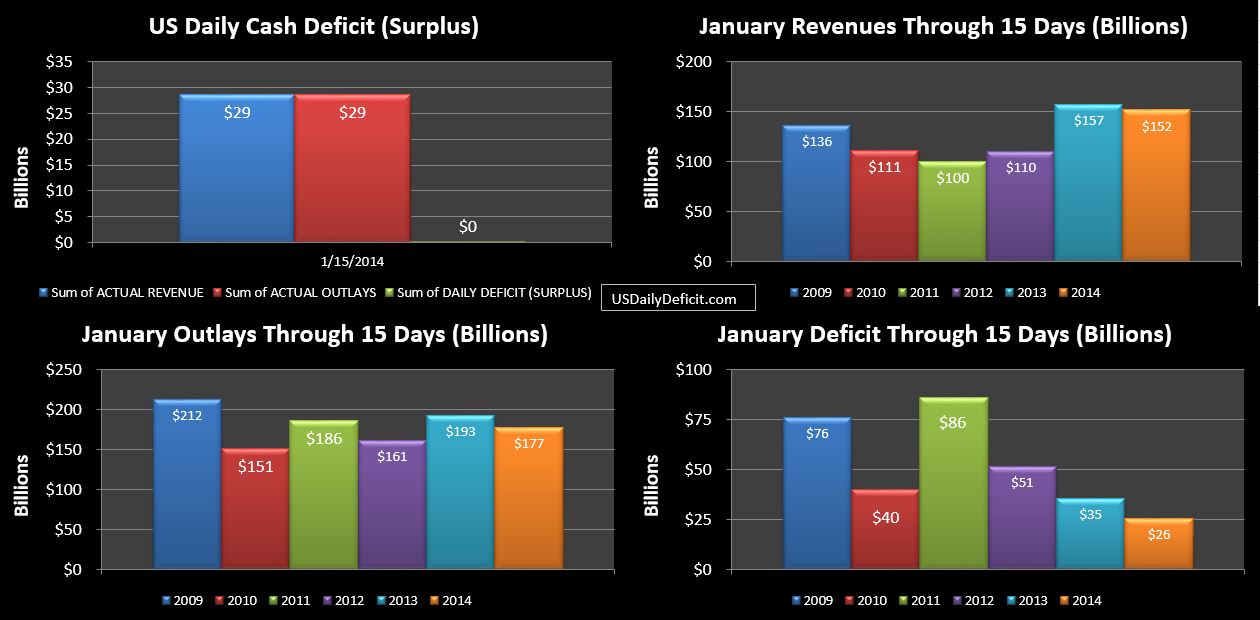 Revenues are down $5B YOY….remember earlier in the month we were at $-9B, so there has been improvement. I am becoming cautiously optimistic though that most of this is timing and we may end up with a solid YOY. Corporate taxes are up $1B YOY…good for a 13% increase… perhaps a good sign since the timing issues affecting the other streams have been more or less worked out of this one thanks to the $7.1B of corporate tax receipts 1/15….and nothing material left for the month.
With corporate taxes behind us…next up is individual income and employment taxes-not withheld. I don't know the specific due dates, but deposits are currently coming in at about $5B per day….last year they peaked 1/23 at $18.5B. While 2014 is a day behind at this point in our charts…the front edge of these payments appear to be a little bit stronger than last year so far…though that won't necessarily correlate to a strong finish, it can't be a bad thing.
Outlays are also down….$16B. Now…$10B of that is likely just the missing day….we'll catch back up on the backside. The rest is likely spread among several programs…with defense, unemployment, and education spending sticking out the most.